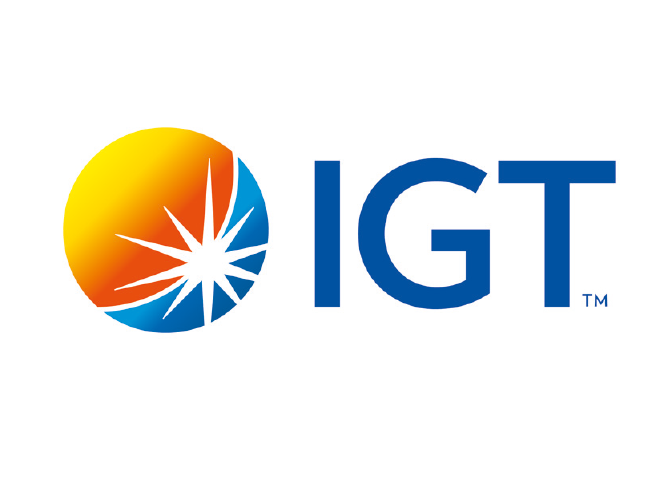 If you were tuning-in to watch your favorite TV show, would you rather view it on a black-and-white set with "bunny-ears" antennae or on a full-color 4K ultra-high-definition screen?
Lottery players might naturally ask themselves a similar question when it comes to the games they love. Scratch tickets drove about 34% of global lottery sales in 2021, with sales increasing 16% over 2020. Like the medium of television, this enduringly popular form of lottery entertainment must continue to evolve to retain players and add new ones.
IGT's new Infinity Instants™ games advance the instant-play experience by leaps and bounds with patented digital printing technologies unlike any other in the industry.
The result is not one new game title but a whole new category of games that offer lotteries an extraordinary level of customization, jaw-dropping resolution, and the ability to enhance virtually all elements of an instant ticket.
"Infinity Instants are fun to play," said one U.S. lottery Product Manager following a recent game launch. "The colors are vibrant, and most exciting of all, they deliver something new and unexpected." "You don't know what a difference Infinity Instants technology makes until you scratch the latex and see the symbols and colors underneath these tickets," said another. "We wanted it to be a 'wow' – a fun surprise for players."
Infinity Instants™ games are produced on a physical press, but the preparation process is all digital. In place of a station with a plate and a cylinder producing an identical product millions of times over, the technology allows for a full level of customization – every ticket can be different, side by side, with unique scenes or artwork. Lotteries can even extend design and color underneath the play area, which has always been "the land of gray." As shown in the examples here, the possibilities open up whole new avenues of use by lotteries and are completely compatible with all industry standard quality and security requirements.
Optimizing success
IGT supports customers in all aspects of their instants business. Beyond game innovation and printing, IGT teams work with customers to assist with portfolio planning, ticket design, and prize-structure development, instants warehousing and distribution, marketing and inside sales/ordering, retail execution, research and analytics, and more.
In preparing to release Infinity Instants™, the company made sure to give customers suggestions about field support and retail execution tailored to this new game type, drawing on IGT teams' experience launching new products.
"We recognized that players would be looking at something completely new and different when they first encounter an Infinity Instants™ game," said Matt Benoit, Senior Account Manager Instant Ticket Services.
"In some cases, the designs are so vivid and such a dramatic step forward that we knew players could wonder, 'Is this an actual scratch ticket?'" For the soft-launch in one U.S. state, an IGT team worked with the Lottery to develop an informational sheet to be distributed to retailers and the sales force prior to launch, to prepare them for any questions from players.
Revitalizing the category
Four U.S. lotteries have now offered players an exciting new experience via Infinity Instants™ games. The creative freedom enabled by the technology also promises to revitalize the instants proposition. "At the first scratch, the innovation is so visible that it becomes a self-selling proposition," observed Giancarlo Perrotta, IGT Vice President Global Instant Ticket Innovation. "If the product itself establishes the idea in consumers' minds that lottery is doing something new and even better than they remember, then that supports engagement and repeat play. We're just beginning to explore the potential. For example, our team is working on new play mechanics that have been impossible until now. This is a very exciting new technology, and each market execution is a step in helping our customers understand what a particular advancement could mean for product designers and our customers' consumer segmentation planning."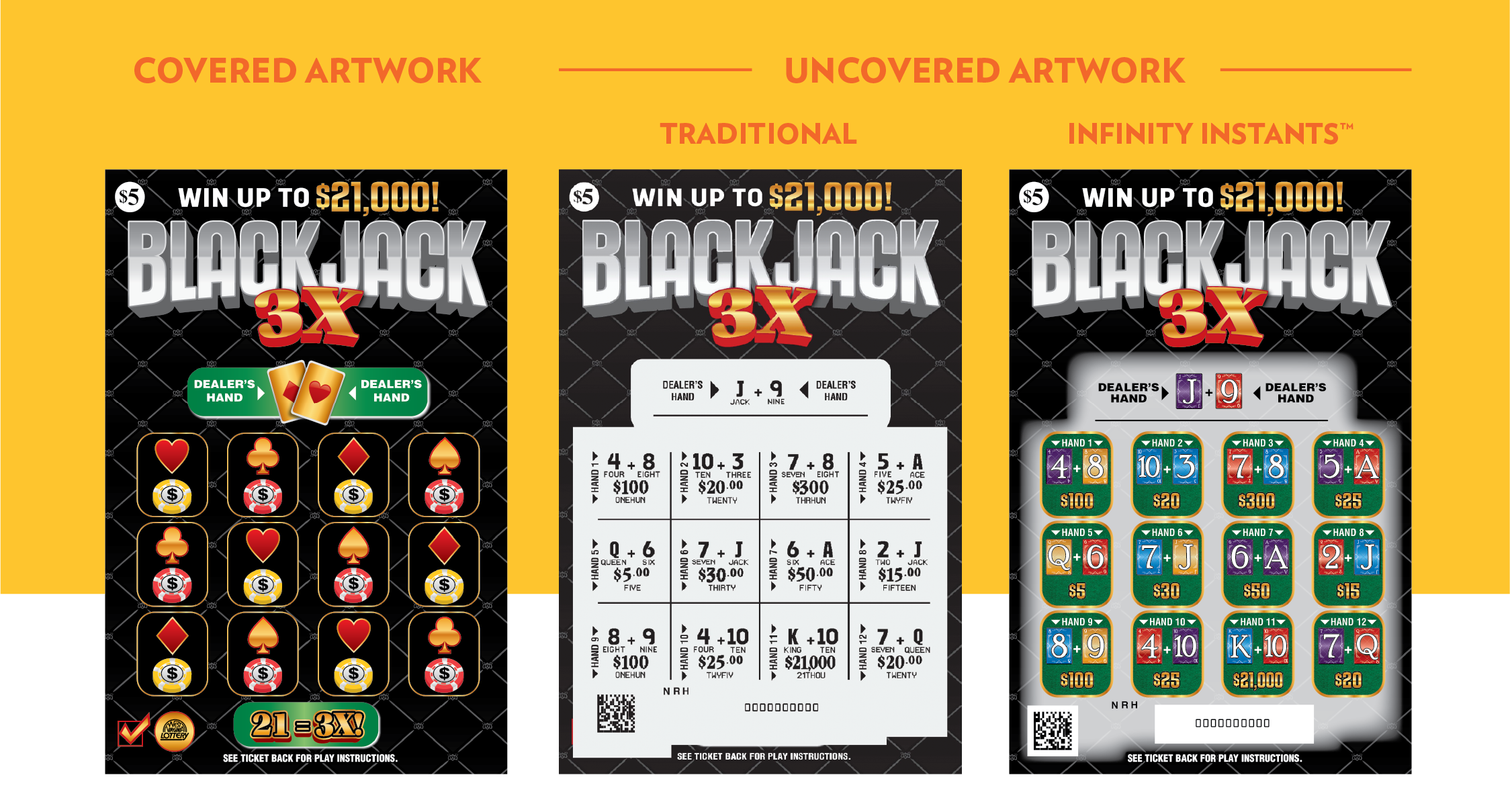 Just scratching the surface
As the four lotteries that have already launched Infinity Instants™ games lead the way in identifying what kind of impact they will have, it's clear that there are unlimited possibilities for the games – and for introducing them into the marketplace.
A lottery can market an Infinity Instants™ game as a fun innovation at any price point, on a new price point, on a family of games, on a classic playstyle such as a key number or symbol match, with any newly developed play mechanics, and more.
The beauty of these games is that the creative potential is wider than ever. In addition to all the features shown previously, the enhancements can even extend to the ticket backs. For example, back graphics can be designed to complement the overall look of the game, support retailer coupons and promotions, additional play areas, unique customizations, and more.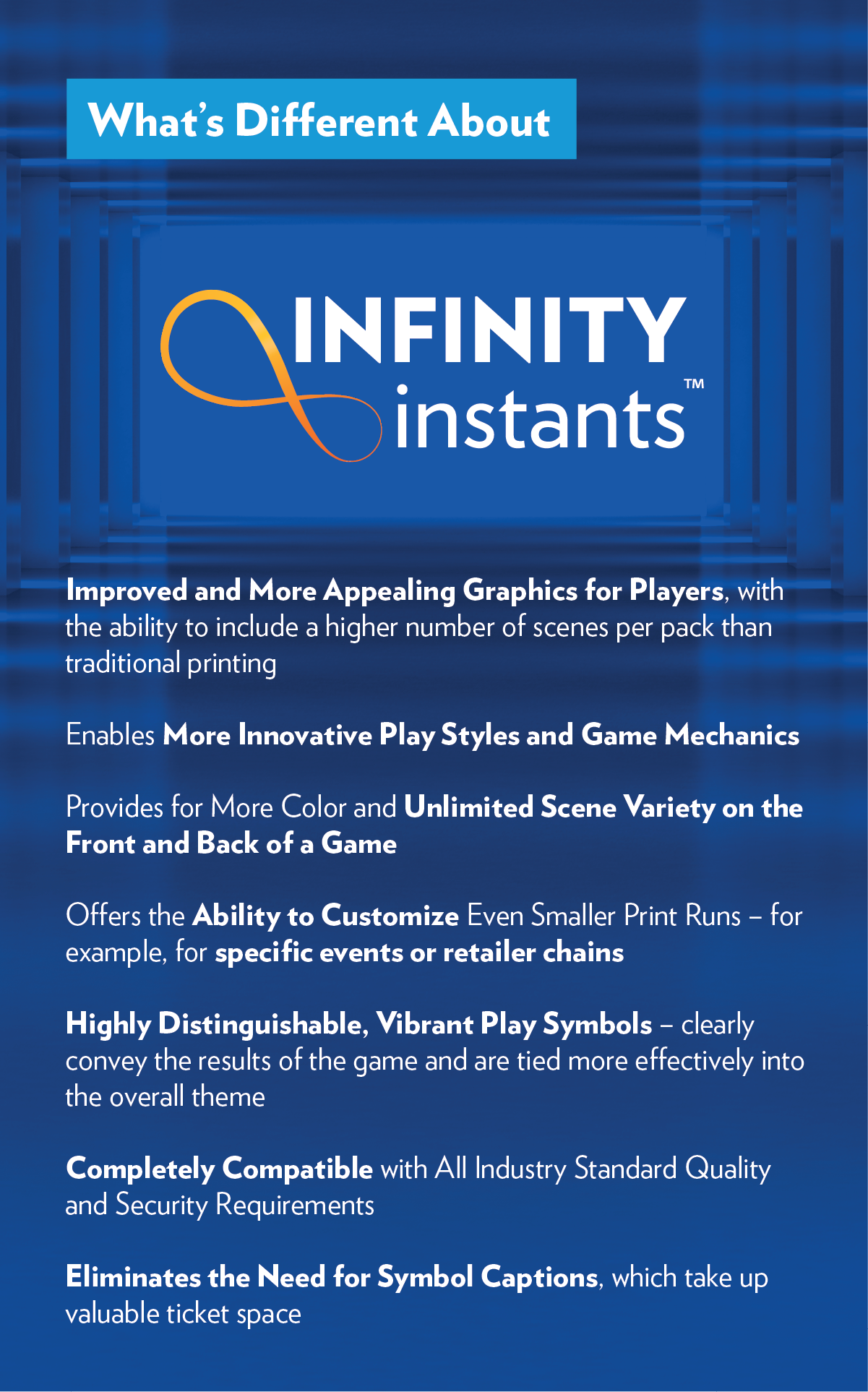 "The European market has always been savvy about instant ticket innovation, and Infinity Instants™ games will allow lotteries to push their game creativity to new heights," said Jacqueline Deragon, IGT Senior Director of Sales International Instant Ticket Services. "This category of games creates opportunities for new play styles and new play value that matter to players, whether they're regular players, occasional, or new to lottery. Infinity is the future of instants, and the future is starting now. With the success of the initial launches in North America, we can't wait to see the games played in the European market."
Learn more at IGT.com/Infinity, and talk with your IGT account representative today to create your lottery's path to bringing these exciting games to market.