Against this backdrop, the CSCF Sport Integrity Group Integrisport Next Awareness Raising Session for combatting and sharing information on sport manipulation or match-fixing for law enforcement and judiciary took place in Malta on 26-27 April, with the cooperation of the Malta Police Force. The EU co-funded project counts four other country partners and international partners, including the Global Lottery Monitoring System (GLMS) and Katholieke Universiteit Leuven (KU Leuven) and supported by Internationale des Footballeurs Professionnelles, Division Europe (FIFPro).

Integrisport Next Erasmus Plus program
The event attracted participants from diverse law enforcement authorities, legal representatives, sports bodies and gaming authorities, and is one of six to take place during the Integrisport Next Erasmus Plus program (2021-22), in the participating countries of Cyprus, Estonia, Finland, Georgia, Malta and Sweden.
The Program aims to facilitate the efficiency of sport manipulation-related crime investigations and prosecution activities by helping to increase the awareness of law enforcement officers, judicial authorities, and other important stakeholders of the country partners all aspects of manipulation of sports competitions. It addresses the topics of sports integrity and betting, virtual currencies, related criminal offences (corruption, fraud, money laundering), policy making and national and international co-operation.
Understanding how to combat sports competition manipulations
Erasmus Plus Program
The two-day event delved into several concrete topics, including the Macolin Convention and the Council of Europe policy to better understand event manipulation, international policy, typology, the vital role of law enforcement and the judiciary within that process, as well as hearing lessons learned from international stakeholders in the fight to protect against this phenomenon. The event was launched by The Maltese Deputy Commissioner, DC Alexandra Mamo, who commended the initiative bringing together so many relevant stakeholders and addressing an important stakeholder group namely, law enforcement and judiciary.
Dr. Norbert Rubicsek, CSCF Director and former Europol officer in the sports corruption unit, together with Project coordinator, Carlos Guttierez, added that Integrisport has evolved as a project over the last three years, impacting law enforcement and judiciary of around 14 countries. the timing of the meeting in Malta, with its recent legislation and the start of the conceptualization of their national platform was a great opportunity.
Detection and prosecution
The other key topic was on detection and prosecution of the manipulation of sports competitions and related cooperation of law enforcement bodies. Local law enforcement, prosecution and other relevant stakeholder participants heard from representatives from Interpol, Maltese and Hungarian prosecutors, the Maltese Olympic Committee, the Malta Gaming Authority, CFCS experts, FIFPro, professional footballers and the Global Monitoring Lottery System (GLMS).
"This is great example of how GLMS is working collectively with law enforcement agencies, judicial representatives and sports federations to strengthen the fight against sports manipulation effectively, and this event provides an excellent opportunity to share best practices and modus operandi with all the stakeholders involved in this effort to uphold sports integrity worldwide", said Luca Esposito, General Secretary of GLMS, during his presentation on sport betting and sport manipulation – betting monitoring and policy making at the international level.
Impact of technology
While many technologies bring benefits, some, such as virtual currencies are having a negative impact on sports, as criminals see it as an opportunity to use this technology to obtain undue financial gain through sports manipulation. In particular, presentations were given on national actions to address crypto-crimes as well as a focus on young e-sports players, dark web betting portals, and the pseudo-anonymity of cryptocurrencies, all of which must be recognized and included in the efforts to combat match-fixing.
Diverse perspectives
The session covered different aspects considered in the process of tackling match-fixing with viewpoints from many of the stakeholders involved.
Professional athletes gave first-hand accounts of the impact of match-fixing on football players, and a discussion ensued on how to protect them within the existing legislation.
The topic of new integrity in sport and good governance legislation for establishing a new regulatory body was discussed by the Malta National Sports Corruption forum and legislative challenges and opportunities were addressed.
The audience heard from Aquatic Sport Malta on the work of a local sports organization against manipulation in sports, what regulations exist, cooperation with other stakeholders and learned about the biggest challenges and opportunities.
Interpol gave examples of investigating sport manipulations highlighting good practices, bad practices, hurdles, and solutions. This was supported and followed by an exchange of best practices, first from different local law enforcement and judicial units and then by the Hungarian Prosecution service that participated in the largest match-fixing investigation to have taken place, to date – the JIT VETO Case.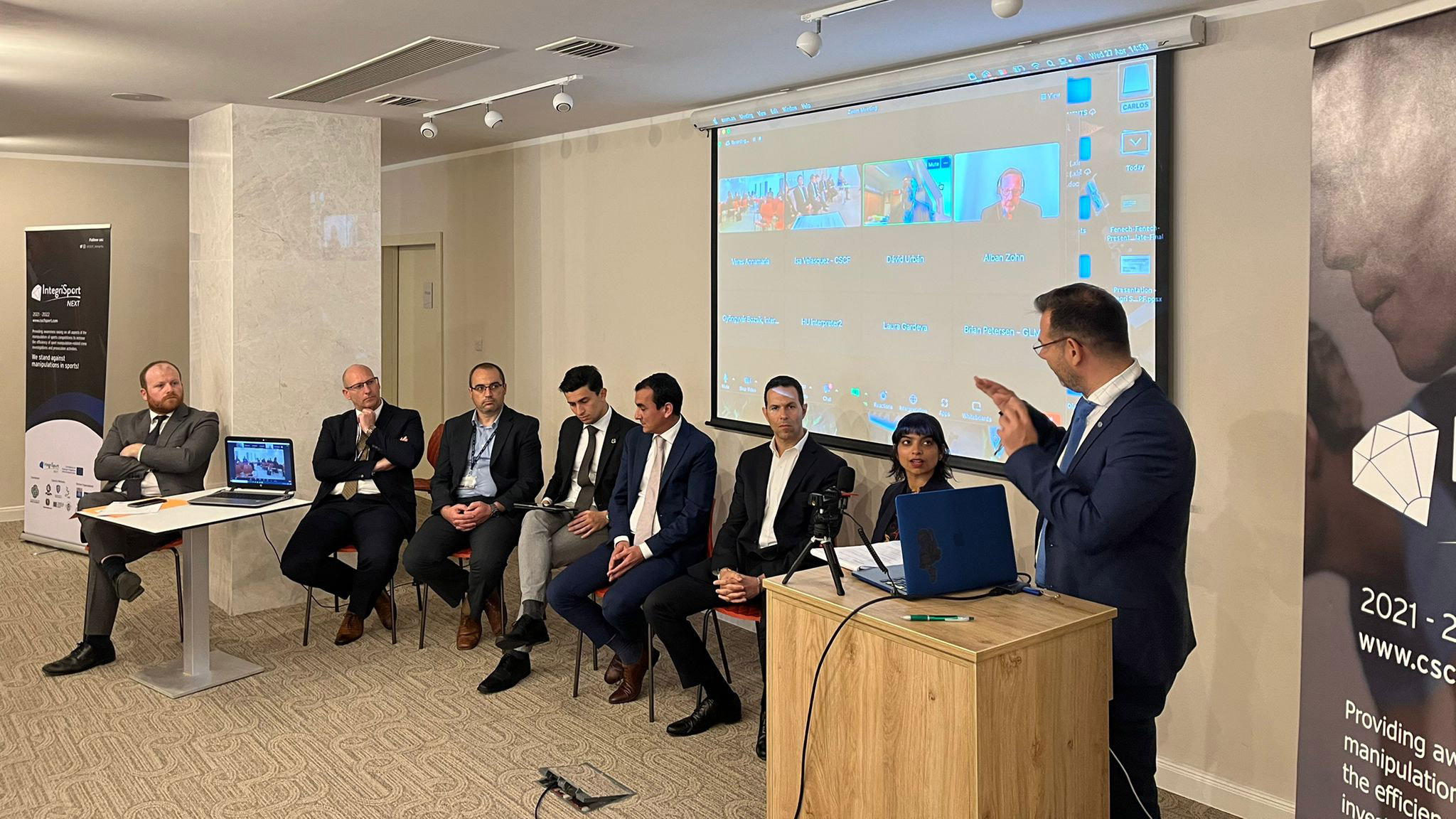 Looking ahead
A parallel multi stakeholder meeting for the National Platform of Malta was organized by CSCF Sport Integrity Group with its experts as well as representatives of the Authority for Integrity in Maltese Sport (AIMS), the coordinator of the Maltese National Platform, the Maltese Police Force, the Maltese Betting Authority and the Council of Europe. The meeting addressed the future of national actions on fighting sports manipulation, cooperation and the role of the future Maltese National Platform in implementing measures of the Council of Europe Convention on Manipulations of Sports Competitions.
The two-day event concluded with a panel discussion on setting guidelines and collecting and using information in investigations of cases of manipulation in sports, with speakers including Maltese legal representatives, law enforcement, judiciary and Football Association, CSCF, GLMS and Interpol.
GLMS representatives Luca Esposito and Cassandra Fernandes underscored the role of GLMS work in providing key information in intelligence gathering as well as the potential of lotteries to provide relevant contributions to investigations. Some actions that still need to be taken include:
Developing guidelines on effective investigation and prosecution of sport manipulation cases
Implementing whistle-blowing systems
Planning awareness raising activities and education policies on the topics
Reviewing guidelines for transferring cases from one investigative authority to another
Cooperating between police authorities and sport-related bodies