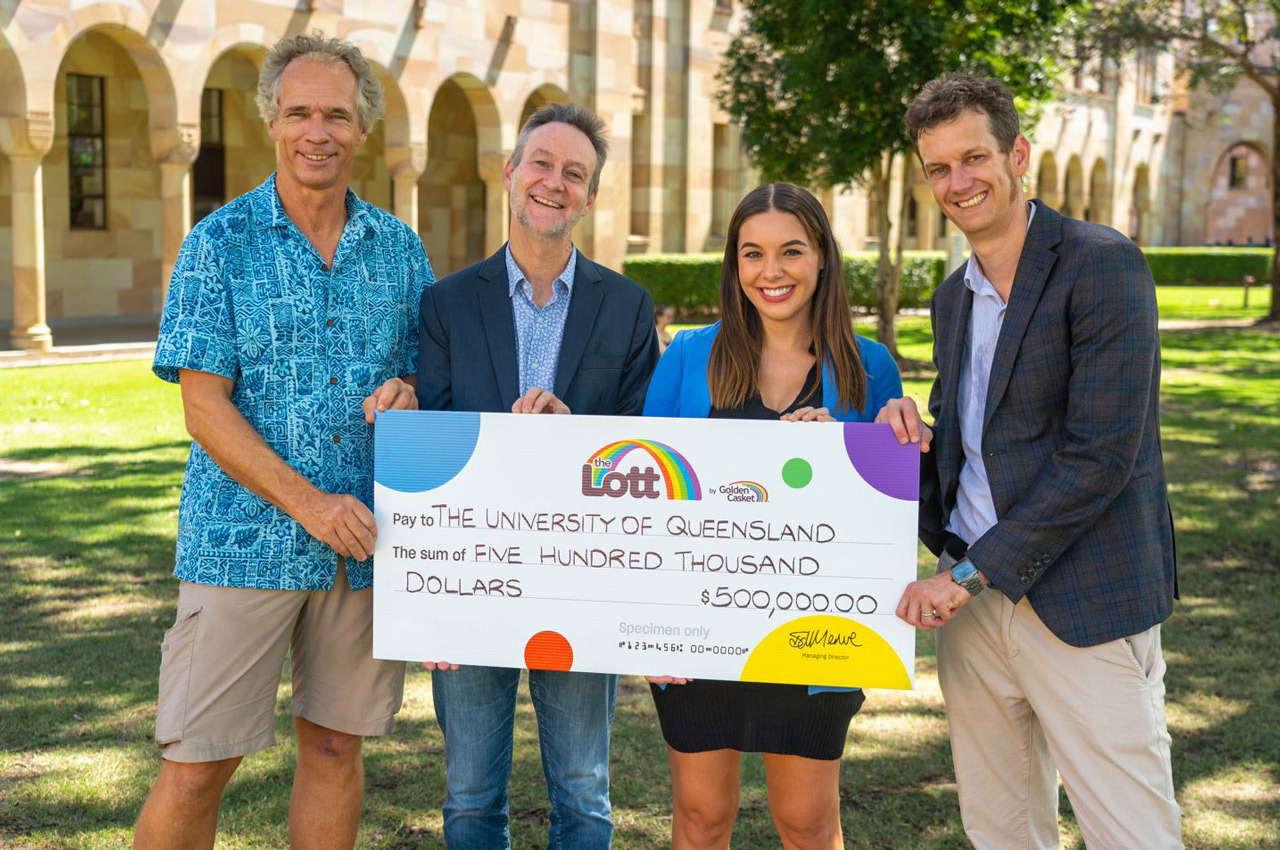 SPRING HILL, QLD, APRIL 26, 2023 – The latest contribution continues The Lott by Golden Casket's ongoing support of UQ, with this year's donation targeting three research projects.

The total amount donated to UQ now totals $2.5 million over four years.

The first research project aims to better understand how seagrass can be used to address climate change.

The research project will investigate factors that impact its resilience and how its carbon sequestration can be protected and maximised.

Seagrass meadows are declining at an alarming rate and are among the most critical habitats in the Great Barrier Reef. They nurture fish and shellfish and are critical feeding grounds for some of Australia's largest marine animals. Seagrass meadows also protect shorelines, reduce pollution, and sequester carbon.

UQ Associate Professor Chris Roelfsema said coral reefs and seagrass habitats were of great significance to Australian communities.

"It's important that people know that their livelihoods are influenced by what's in the ocean. It's a truly symbiotic relationship, and so we must do all that we can to preserve it," he said.

"To better take care of the land and sea country, we need to know what habitat we have, which is where our mapping project comes in.

"This funding from The Lott by Golden Casket will help us to continue our conservation efforts and connect people to help save these marine habitats."

The second research project will continue the progress of the potentially game-changing re-engineered molecular clamp vaccine technology – Clamp2.

The rapid-response vaccine pipeline aims to respond to a future viral outbreak or epidemic with a safe, effective, cost-efficient, and easy-to-distribute vaccine within 100 days.

UQ Associate Professor Keith Chappell said the clamp would be applicable across multiple viral families.

"We are developing vaccines to protect against current and future viral threats, including influenza viruses, coronaviruses, Ebola viruses and other highly pathogenic viruses," he said.

"The new molecular clamp platform can be deployed quickly in the event of future pandemics, and the donation from The Lott by Golden Casket will help us to reduce the timelines for developing safe and effective vaccines."

The third research project aims to develop new pain relief medicines using spider venom.

The donation will be directed to IMB's Venoms Lab to advance the development of peptides from spider venom into more effective therapeutics for IBS – a highly prevalent form of chronic pain and endometriosis – a chronic debilitating disease.

UQ Professor Glenn King said the venom of some of the world's largest spiders could provide a seemingly unlikely source of painkillers to people in need.

"Endometriosis affects one in nine women, while 11 per cent of Australians are afflicted with irritable bowel syndrome," he said.

"These debilitating diseases have few effective treatments, so support from partners such as The Lott by Golden Casket will allow us to develop treatments and work towards a world free of disease."

The Lott Partnerships Manager Ally Ramsamy said it was an honour to support three world-leading Queensland research projects.

"Supporting the community is why lotteries was first established in Australia, so we're proud to continue this tradition by donating to UQ for the fourth year in a row," she said.

"We hope that with this $500,000 donation from Golden Casket unclaimed prize money, we help UQ to tackle some of the biggest health and environment issues of our generation."

The official home of Australia's lotteries, The Lott operates and markets Australia's leading lottery games customers know and love creating everyday winners, winning every day.

In 2022, more than 135.3 million winners took home more than $4.14 billion in prize money from their favourite games at The Lott, including Saturday Gold Lotto, Monday & Wednesday Gold Lotto, Powerball, Oz Lotto, Set for Life, Lucky Lotteries, Keno, Super 66, Lotto Strike and Instant Scratch-Its.

Last financial year, Australia's Official Lotteries contributed more than $1.6 billion via state lottery taxes and donations to help community initiatives, such as hospitals, health research, disaster relief and education.

For The Lott images, interviews, statistics and overlay, visit The Lott's Media Centre at mediacentre.thelott.com
Media video and audio grabs can be recorded at our inhouse studio upon request.