Over the past decade, technology advances have disrupted many industries and changed the way they operate. Advances in broadcasting, live-streaming, improved connectivity with the Internet of Things and more recently 5G and cloud computing services have offered new opportunities and platforms for doing business.
Technology continues to change how we live. We use our smart phones to access information whenever we need it, wherever we are. Many daily activities are carried out online, such as communication, banking and purchasing items.
During the global pandemic, millions of people studied and worked remotely, thanks to these technologies. Confined to home during the lockdowns, many turned to the online world for entertainment.
Online sports betting boomed. In fact, the global online gambling market – including playing casino games, poker and/or sports betting – is expected to reach more than USD 92.9 billion in 2023, according to Statista, a leading provider of market and consumer data. Improved mobile access and use, accelerated digitalization and the legalization of sports betting by the US Supreme Court in 2018 are some of the reasons for this growth.
As online sports betting evolves to include in-game betting – where punters bet on aspects of a game once it has begun – they require the delivery of accurate, detailed data, to quickly be able to place their bets.
The evolution of artificial intelligence (AI) technologies such as machine learning (ML) and neural networks have resulted in data analytics changing the nature of business intelligence across diverse industries, including sports and the lotteries.
Other technologies such as virtual and augmented reality are enabling further developments for sports betting in the next generation of the Internet in the so-called metaverse, which is in its early stages of development, and requires data.
Whatever the online format, integrating and automating data collection and analytics into operational processes offers the vital, more detailed and comprehensive information required for making rapid and informed decisions for the different stakeholders of the sports world, including: athletes, coaches, teams, leagues and fans, as well as sports bettors (punters) and online betting operators.
However, important questions are raised when a product or service uses personal data. For instance, what kind of data can be collected and by whom? Who owns and controls it? Who can access it? Where and how is it stored, who might it be shared with and on what terms?
As online sports betting grows at a pace and generates billions of dollars, these questions will need to be answered rapidly. It will be paramount to develop international norms for ensuring the protection of the punters' data, and that players and sports also benefit from their own data.
Until the mid-1990s sports betting was a static affair. You made your bet, paid the bookie, and got a slip of paper authenticating the bet. Then you waited for the outcome. In 1995, three option traders – Haden Ware, Steve Schillinger, and Jay Cohen – moved from the US to Antigua and established the World Sports Exchange (WSEX), probably the first online sports betting platform. WSEX was unique in that it was run like a commodities market, allowing punters to buy and sell options on team A or team B throughout the course of a match. WSEX betting was modeled after the futures market, with individual bets seeing probabilities fluctuate as the outcome of the game came into focus. This form of betting became widely popular as it was engaging and fun for punters around the globe. It became a point of reference for sports betting operations as we know them today. At the apex of WSEX's success Cohen stated that the future of sports gambling would be totally interactive wagering during the game.
Despite the popularity of WSEX, the platform was in violation of the US Wire Act, which forbid the use of telephone lines for inter-state betting. Ware, Cohen, and Schillinger, being American citizens were all charged with Wire Act violations in 1998. Cohen flew back to the US to face charges. He proclaimed his innocence stating that WSEX could not be illegal owing to the fact that it was located in Antigua where online betting was legal. Cohen was found guilty and sentenced to 18 months in federal prison. On April 19, 2013, WSEX ceased operations. Shortly after WSEX went out of business, Steve Schillinger was found dead in his home in the Antiguan capital of St. John's with a single gunshot wound to the head, victim of an apparent suicide. After spending 13 years as a fugitive, Haden Ware returned to the US in 2016 to face charges. He received a lenient sentence and was spared prison time.
After Cohen's conviction, Antigua, angered by one of its licensees being jailed, and its loss of access to the US market, filed a complaint with the World Trade Organization (WTO) on March 21, 2003. Antigua claimed that the US had violated its General Agreement on Trade in Services (GATS) commitment to free trade in recreational services. The WTO ultimately ruled in favor of Antigua and awarded Antigua the right to suspend USD 21 million annually in intellectual property rights held by US firms.
Since the demise of WSEX, sports betting has proliferated around the globe, owing largely to online and mobile sports betting platforms. Although Haden Ware, Steve Schillinger, and Jay Cohen were seen by the US authorities as criminals, in many ways they are pioneers of modern-day sports betting.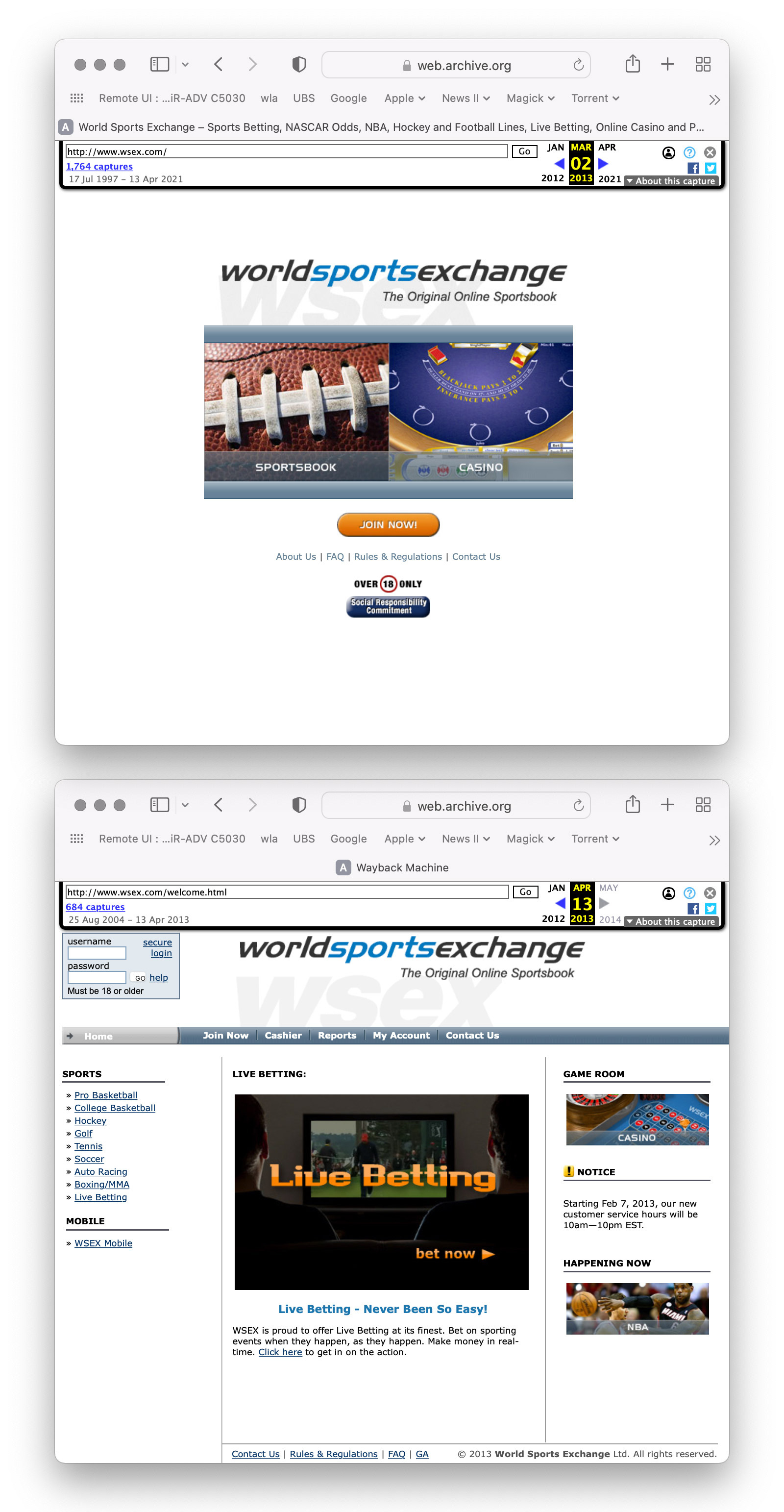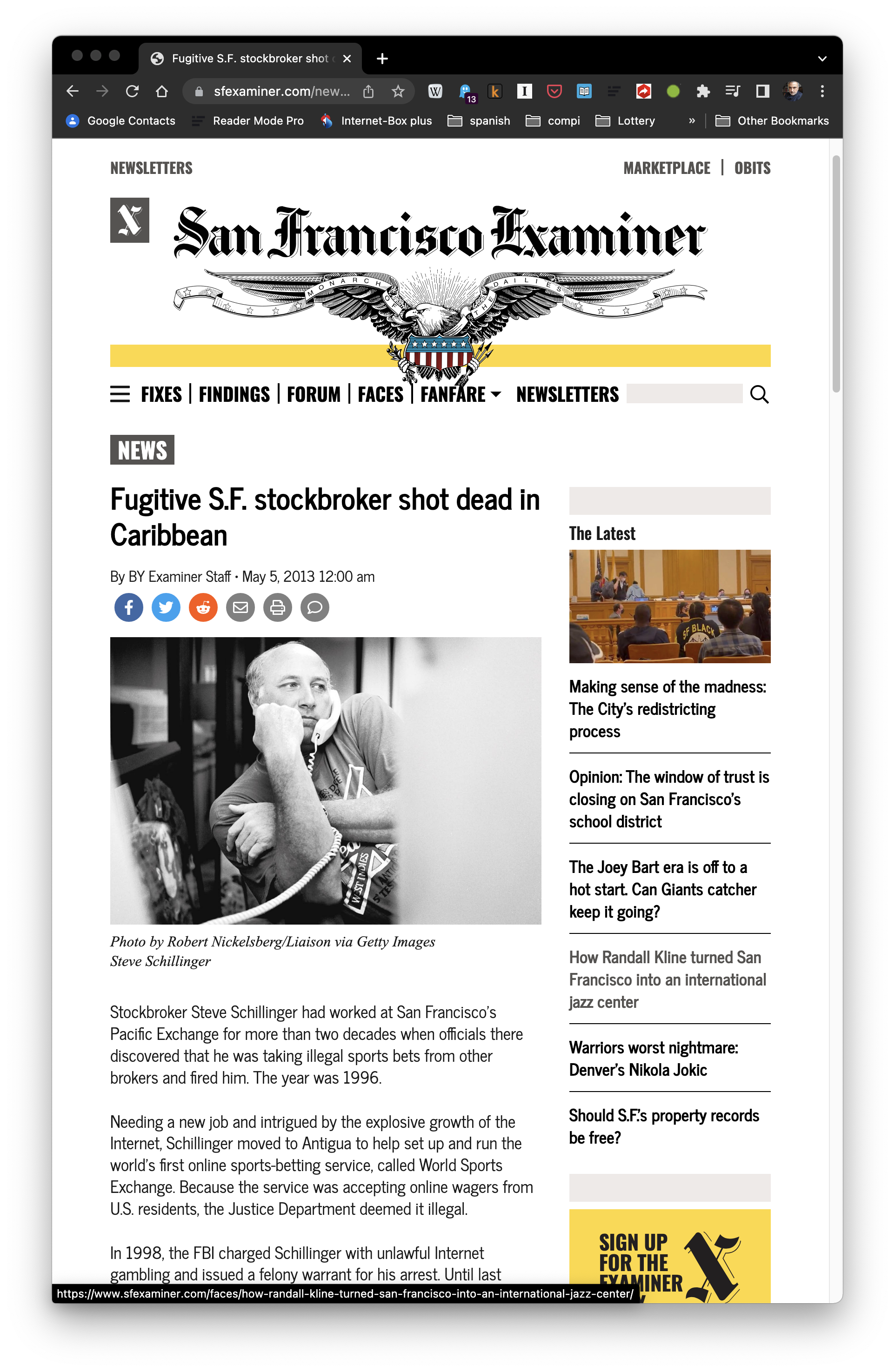 Data collection, analysis and use in sports and sports betting
Data collection and analysis plays a significant role in the world of sports by helping athletes and teams hone their performance. It has also changed the way the media covers sporting events and facilitated the growing popularity of sports betting.
A booming trend

According to Statista, the global sports analytics market is expected to surpass USD 10 billion by 2028, achieving a compound annual growth rate of 21.8 percent between 2021 and 2028.

Athlete data

Technology is changing how athletes train, compete and minimize injury risk. It is also helping to manage their careers, improve their performance and enabling them to be more aware of the factors that can have an influence on their game, such as fatigue, stress and their biological processes. Enhancing the world of sports, innovative technologies have broadened the scope of what athlete data can be collected and analyzed.
For instance, the body can be monitored for its location on the field, motion, skin temperature and muscle fatigue, eye movement and head impact. Sensors also monitor arm speed, elbow stress, ball touches to the feet, and for the legs, distance covered, stride length, acceleration, and deceleration.
Some personal biometric data readings include heart and respiration rate, blood oxygen and/or glucose levels, core body temperature and sleep patterns.
Improving individual and team performances
For years, important decisions in team sports, such as which players to draft, to trade, or to develop, and what coaching strategies to take, were made by either a gut feeling or through adherence to past traditions, without the help of digital tools.
Now, coaching regimes have been greatly improved before, during, and after a major match or tournament, owing to wearable sensors worn by players and optical trackers positioned at various angles throughout the sporting environment. Coaches receive real-time data on the performance of their players and analyze it later with the team.
Tracking fans

Data analytics in the sports arena has moved beyond the athletes' performance to track the fans movement, behavior, and purchase habits. This helps sports teams predict everything from ticket pricing, to staffing on game day, on through to improving parking lot congestion at the stadium.
This information enables the mapping of a fans' broader behavior outside the stadium to better understand their preferences before they arrive at the arena and after they have left. It could help teams better market events and provide fans with targeted messages relating to upcoming matches.
Monitoring punter behavior for enhanced experiences

The demands and requirements of punters drive the development of products and services offered by gaming operators. In addition to betting odds, tech-savvy punters want fast, accurate data that helps them make their decisions.
Betting operators analyze punter habits and preferences through their data, to enhance the betting experience, and tailor products and bet suggestions based on their preferences, such as which sport, location, odds ranges, times or day, a particular market and whether the betting is for pre- or in-game.
Ensuring responsible gaming

As industry increases pressure on operators to create safe, responsible gaming sites and applications, punter behavior data also helps operators decide which measures to implement, to ensure punter safety, such as a self-exclusion options, playing time or spending limits.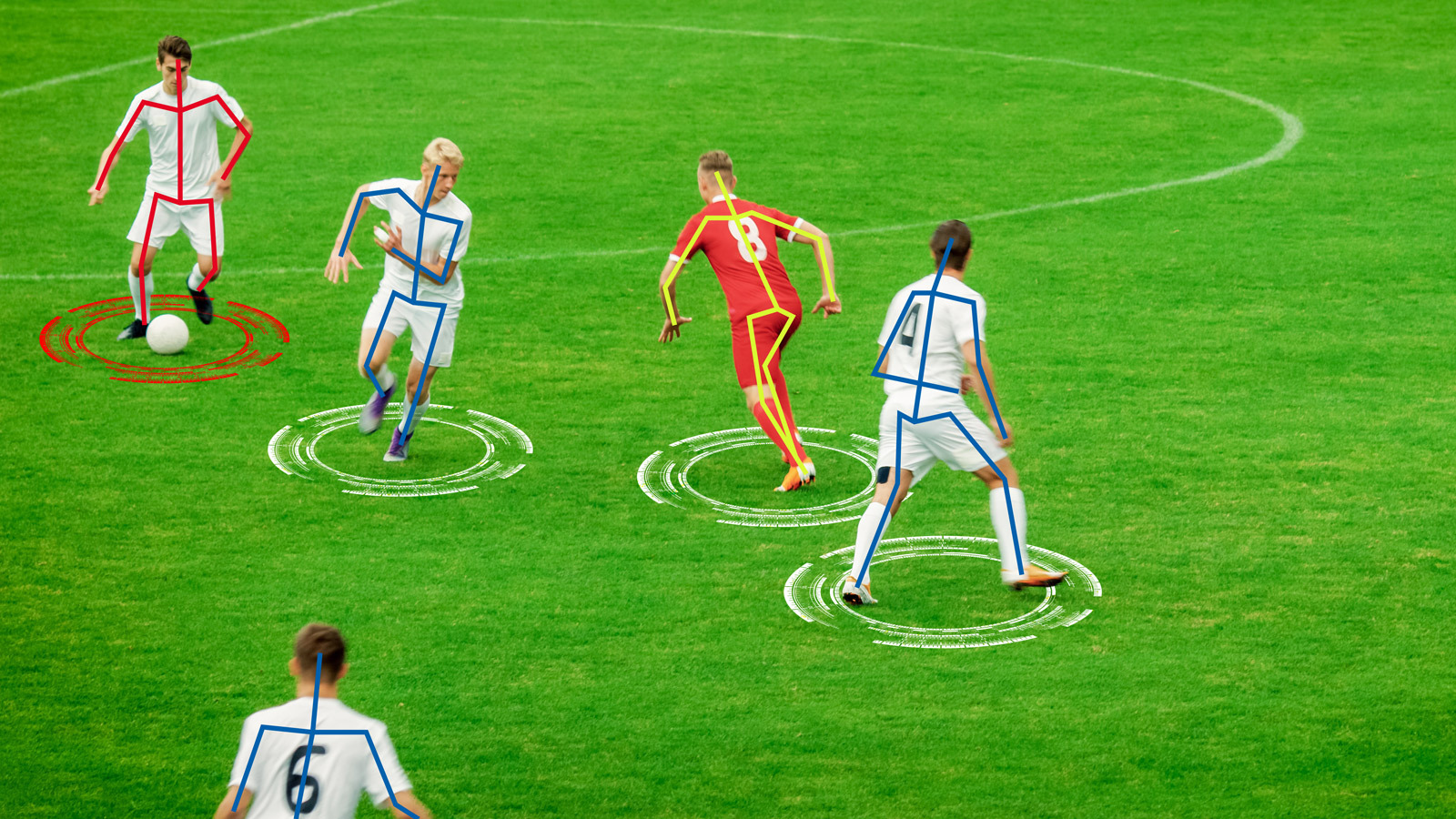 Game-changing tracking solutions behind data analysis
Technology-based sports betting has emerged that allows for tracking of advanced, real-time athlete performance (biometrics and biomechanics) in sports competitions.
Many stakeholders in the sports world – data collectors, sports betting operators, teams, coaches and athletes – use solutions developed with wearable devices, and optical tracking solutions that deploy artificial intelligence with enhanced features.
Soccer

The automated analytics platform Track160 is powered by computer vision and deep learning models that allow soccer leagues and clubs to gather comprehensive data and insights into individual players, groups of players or the entire team.
This technology is non-invasive. Players do not wear a GPS tracking device, and no human operators or infrastructure are required. The platform can extract the data from a single viewpoint recording of a match.
It works by automatically identifying and tagging all the events (passes, corners, goal kicks etc.) and generating a single video clip for each one using a single viewpoint camera, advanced AI optical tracking, and deep learning technologies.
Performance analysis and reports for individual players, groups or the team, are produced on the fly. Data insights on player moves can be used to develop strategies, study dangerous points of the game and better understand the opponents.
The sports science section records all physical data pertaining to all players. It covers fitness data, distances covered, acceleration and deceleration, sprinting actions, as well as detailed passing information, which can be downloaded or exported.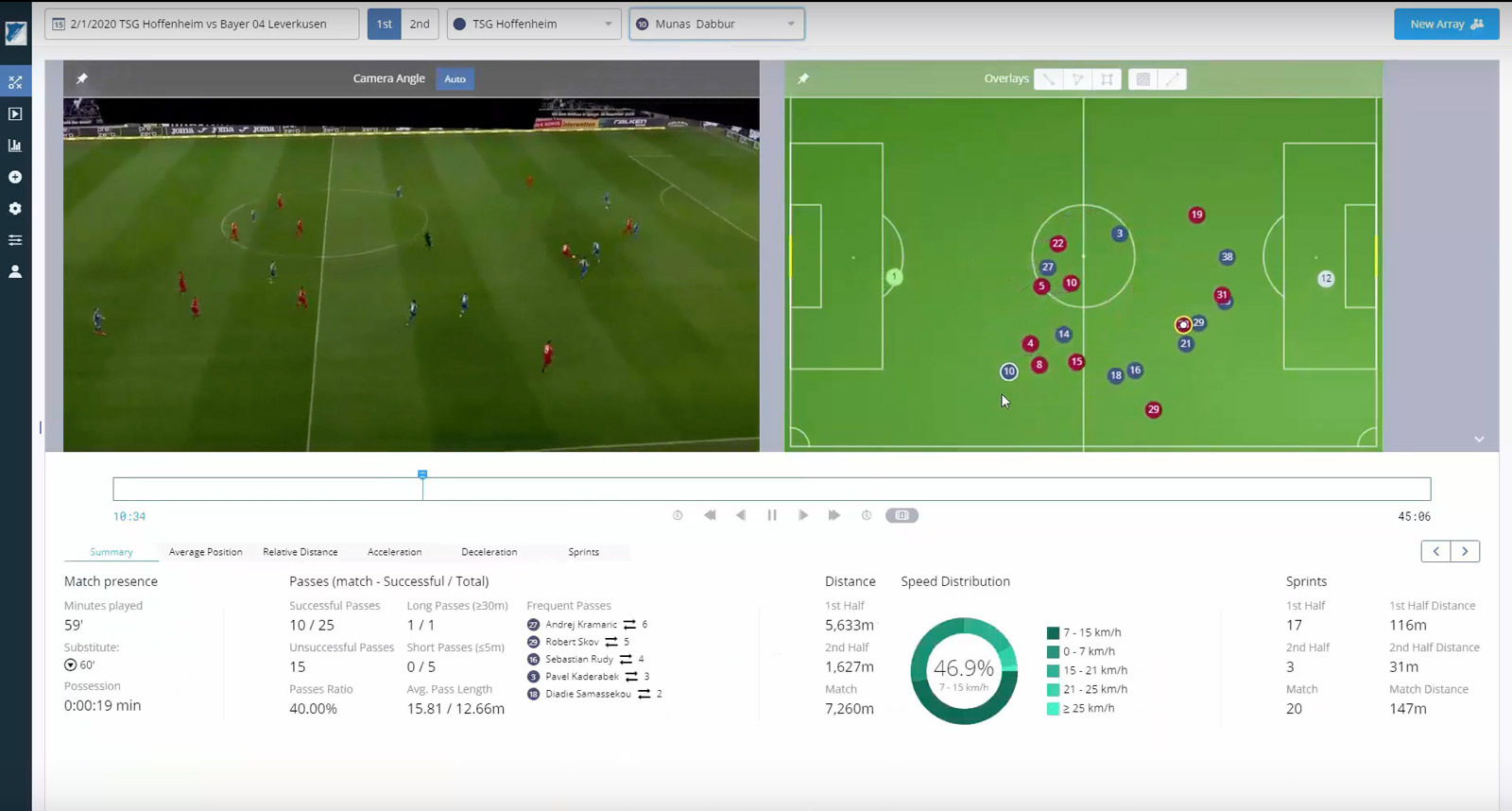 Soccer goal predictor

Sportradar, a leading provider of real-time sports data, and the Amazon ML Solutions Lab, have collaborated to develop a computer vision-based Soccer Goal Predictor that uses machine learning which incorporates more fine-grained information at pixel level to develop a solution that predicts goals with high confidence, a couple of seconds before they happen.
Australian football

The Australian Football League (AFL) app provides statistics for every match, as well as real-time scores and leaderboard, player data on ball possession, speed and ground coverage.
Cricket

Cricket21 is an end-to-end match analysis engine which offers team performance analysis and opposition scouting. Covering batters, bowlers, fielders and umpires, the data gathered is compared to past games and used by coaches to improve performance and develop game strategies. It is possible to see how a specific batter played against a specific bowler, the types of shots scored, dismissals and balls bowled.
Team sports – American football, hockey, lacrosse

Athletes may experience head impact during team sports, such as football, hockey or lacrosse. Athlete Intelligence provides head-impact monitoring and performance tracking solutions for team sports, that help coaches and trainers improve athlete safety and performance. Connected mouth guard and helmet or headband devices monitor and gather data such as impact count, severity, and location on the head. This real-time data is then transmitted and reported directly to mobile phones, tablets, or apple watches.
State-of-the-art stadium infrastructure

The UK Tottenham Hotspur stadium, modeled on US equivalents, uses cloud-based communication and collaboration systems to connect fans to the club with a more personalized service when ordering tickets, getting information about injuries, stadium directions and kick-off times via multiple channels, including telephone, online, social media and email. It is a prime example of how event promoters can also take advantage of data insights to drive fan interest.
Customer data can be accessed instantly from any device connected to the same service. The idea is to enhance the fan experience wherever they are in the world so that useful information about the team, matches and athletes is tailored and provided to fans.
How sports betting operators use data
With the expansion of data in sports, sports betting operators are capitalizing on its value by offering punters in-game betting, providing tools that create attractive odds and increase bet volume and frequency.
Within the last ten years, in-play betting has surged across many different types of competitions and requires bookmakers to change their odds on the fly during a competition, with the flux of the relevant data and changing probabilities. Digital streams show live games that include a data suite by diverse providers, but this requires quality data and speedy delivery.
The use of real-time athlete data to track and adjust predications is fundamentally changing the sports betting industry. Work is now being done to combine collected data with AI technologies that will take data analytics to the next level.
Real-time digital wagering has created betting opportunities that don't rely on score. Instead, spectators create their own narrative tension by betting on individual pieces of the action, heightening the entertainment value of the game. They are betting on something that is going to happen in the next few seconds, such as a ball or strike in a baseball pitch, or if the next tennis serve will be an ace, or a field goal being made or missed in American football.
Different types of data used in different scenarios
On and off the court or field, player and game statistics, such as the number of goals or passes made can be collected by anyone watching the game, whereas biometric data – or any kind of biological information which can be obtained from an individual player – must be gathered using sensors placed somewhere on the athlete.
As innovative AI technologies pervade the sports sector, they enable new platforms which rapidly package this data for use in different ways. Legal betting operators use sports data feeds to provide their punters with the insights they need to bet on sporting events.
While fantasy sports have been around for decades, the modern era developed in the 1980s with baseball, using real player data. In 2022, top sites offer American football, baseball, cricket, golf, hockey, NASCAR and soccer. Participants assemble imaginary or virtual teams composed of proxies using real player data from professional sport. The competition is based on the statistical performance of those players in real games. This performance is then converted into points collated by the team manager. Like the real world, fantasy baseball has a league where team owners can draft, trade and drop players.
Data raises questions
One of the main challenges in sports is to think on your feet, that is, quickly process information and react to it decisively and effectively. This is an instinctual gift of great coaches and talented players.
The data revolution has democratized this instinctual ability and shifted who holds the analytical advantage in sports competitions. But this revolution has brought with it some new ethical questions. For instance, some would argue that the data revolution is taking the human element out of the game, making it a competition among data analysts rather than athletes.
Ownership, use and privacy
A number of interesting challenges face the sports betting world. Concerns regarding athlete data ownership, interpretation, privacy, confidentiality and use have emerged. The commercialization of sport is a lucrative business in which diverse player data is used in products (physical and digital) and advertising.
Even if players do not own their data, they are beginning to question who can access and use it and why they are not benefitting from all its subsequent uses.
While impressive statistics may help players during contract negotiations, many are concerned that biometric and performance data might be used against them if it demonstrates diminished performance.
In a podcast interview with Steven Burton, CEO of Genius Sports, during his former role as Director of Integrity, Governance and Sports Partnerships, he highlighted a key challenge faced by sport and sports betting, which is still the case today – that there is a patchwork of intellectual property (IP) rights around data in sport and different jurisdictions have different concepts of the copyright infringement. Burton also emphasized that where sports have data or video rights, there needs to be a proper legal framework for them to be allowed to exploit those and derive commercial revenues.
Navigating the sports data ecosystem
The commercial use of data makes it a valuable asset for bookmakers, sports clubs, managers, and individual players. Whatever the use case, its value comes from its confidential nature and any exclusive rights to utilize or analyze it.


For the sports betting world, the value of data analytics continues to grow as seen in the contract signed by sports data provider Genius Sports, which became exclusive data partner for the US National Football League (NFL) in 2021. This partnership was reported to be worth USD 120 million per annum.
Until recently, sports leagues generally only saw a small fraction of the revenue generated from sports betting, and athletes saw even less. Historically, data collected from sports competitions has not been seen as property of sports teams, leagues, or federations.
The deal completed between the NFL and Genius Sports was followed by two important deals involving Sportradar, including an extension of its existing deal with the National Basketball Association (NBA) and new arrangements with Union of European Football Associations (UEFA), the International Tennis Federation (ITF) and the Asian Football Confederation (AFC). This UEFA deal has a specific importance within the current debate. For the first time, Europe's governing body has sold the data rights to all its competitions.
Unlike observable event data, athlete data derived from sensor technologies require sports data providers such as Sportradar or Genius Sports to have access to team or league data. For some years, profitable agreements have been made which enable sports data providers to access and use athlete data from sports leagues. However, cases continue to arise where athletes believe that they should have more control over their data, and be remunerated for its use.
Unknown territories
Data rights can be complex and may vary in different jurisdictions. The sports world continues to learn about this subject on a case-by-case basis.
Australia
A number of laws come into play with regard to data rights in Australia. When data is collected in wearables, such as heartbeat or other vital signs, the person wearing the device that collected this raw data does not own the data. Australian copyright exists for original works, which means that the data would need to fulfill certain requirements before it could be protected – for instance, by using the data to conduct research in the production of a literary work or scientific report.
As for data use, the Privacy Act 1988, may limit the way biometric data can be used or disclosed, giving the player certain control. However, collective agreements between players and sports leagues may require athletes to agree to their data being collected and left in the control of the league, as is the case with the Australian Football League.
Europe
Horse racing
The licensing of real-time sports data has been subject to litigation at the highest levels. In the early months of 2020, the European Court of Appeal overturned a previous ruling on a case involving horse racing data and its use for the creation of odds by "off-course" sports bookmakers.
The claim was brought by The Racing Partnership Ltd to protect the exclusive rights it had been granted by racecourses to collect, aggregate, and export racecourse data obtained on-course to off-course bookmakers, for those off-course bookmakers to update, and ensure the accuracy of the odds they offered. The Racing Partnership claimed that Sports Information Services Ltd, a former exclusive licensee that had been succeeded by The Racing Partnership, had encroached upon that exclusivity.
The Racing Partnership's claim to data exclusivity was based on a pastiche of legal rights that included copyright, database rights, contract law, and the law of confidence.
The Court of Appeal accepted that these rights could potentially be used to protect data, and therefore exclude third parties from extracting value from it in certain circumstances. Unfortunately for The Racing Partnership, none of the legal rights they claimed were deemed to have infringed on their exclusivity. It was found that the data had not been imparted in circumstances importing an obligation of confidence, because the relevant contracts did not provide for any express restrictions on the dissemination of data. Here, the lack of operational management of the data in question through contractual restrictions proved fatal to a claim for breach of confidence.
Soccer
In the case of soccer data rights, three key companies vie for contracts with the top competitions in the sport. Stats Perform, Genius Sports, and Sportradar, which aim to own rights to different competitions within the top tiers of the sport. Two of those firms are embroiled in a court case with each other regarding the present structure around the licensing and distribution of live data from football leagues for betting purposes. The dispute effectively revolves around the difference between official data and exclusive data. Exclusivity can also be seen as being monopolistic; denying competitors access to stop them providing competitive offerings.
United Kingdom
The Global Sports Data Technology consultancy provides leading technology, legal advice and opinion in the area of sports data governance, smart contracts and fan engagement. In October 2021, it began the Project Red Card initiative. A group of 850 current and former UK and Scottish professional footballers – sent pre-action litigation letters to at least 17 data companies, including betting, entertainment and data collection firms, regarding the trading of their performance data over the last six years. The players believe that they should have greater control over how their data is collected and that they should benefit from how it is commercialized.
Their argument is that the unlicensed usage of their personal data by third parties, contravenes the European Union General Data Protection Regulation (GDPR). GDPR defines "personal data" as any data relating to an identified or identifiable individual (the data subject). Under this Regulation, athletes have the right to access their data, request rectifications, and have the right to erasure.
They claim that they did not consent to, nor did they receive payment for the use of their data, which they believe to be personal data. They have not had the chance to correct data they feel misrepresents them and finally, they want to know that they will be compensated for subsequent use of their data, for instance by betting and gaming companies who may have contracts with the football league that gathers their data in the first place.
Many industry stakeholders are waiting to see what happens with Project Red Card. If successful, this could lead to a fundamental shift in the way sports player data is collected and used.
United States
Similarly in the US, it is considered that generating sports data usually requires mechanical collection and labeling only, rather than involving specialized knowledge to create original content. For this reason, the copyright infringement claim brought by the NBA in National Basketball Assn' v Motorola, Inc. did not succeed, because the court said the NBA did not own copyright in live game statistics. Since statistics are an element of the sports event that anyone in the public could obtain from attending the game, the game itself could not be copyrighted.
In the 1960s, television began changing the way that fans experience sports, through highlights, instant replays, and nationwide telecasts. Today sports betting is proving to have an equally transformative effect on how we view sports. It has increased the entertainment value of sporting events and as such has increased the profit potential for media organizations.
The boom in sports betting, particularly in the US has had a profound influence on the media, and how the public perceives and consumes sporting events.
The major betting companies feature live streaming in their apps. This is putting pressure on network broadcasting of sporting events.
The increase in podcasts dedicated to sports betting is attracting sports journalists away from traditional sports media.
Media companies are increasingly becoming involved in the sports betting as they begin to see its enormous profit potential. They are finding that punters are greater consumers of sports media than non-punters. According to the Bleacher Report, an online news portal dedicated to the intersection of sports and culture, punters are five times more engaged with their app than other spectators.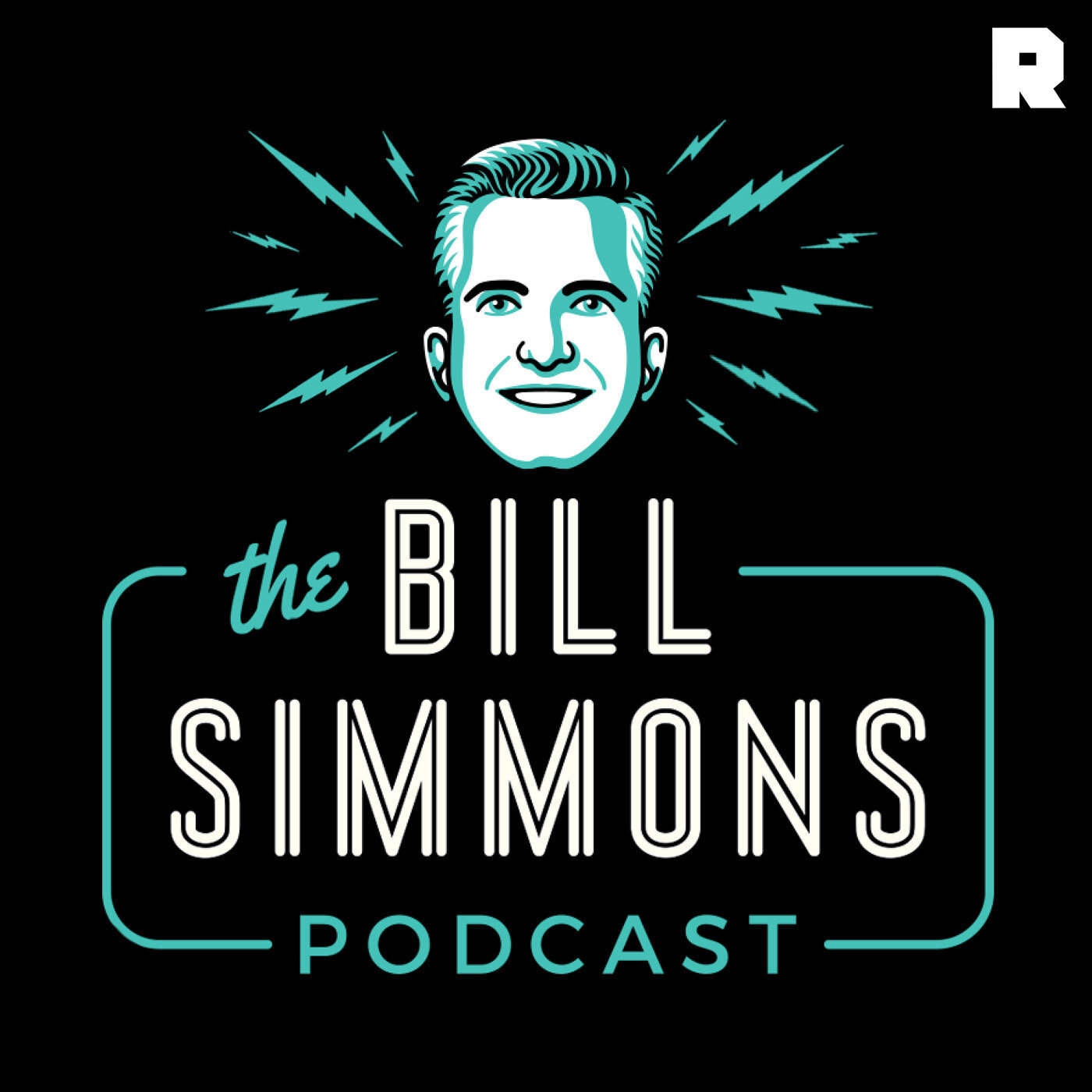 Bill Simmons is a notable sports media personality. He is CEO of The Ringer, the media company he sold to Spotify last year for USD 196 million, and an avid sports bettor. On his popular podcast (the Bill Simmons Podcast), he provides sports analysis with an occasional tale of his most recent sports betting exploits. According to Simmons, gambling is part of sports and we may as well accept it.
Ensuring sports data privacy and security
Like any personal data, security and privacy of sports data must be ensured. This protects the players whose data is being used, the data owners, such as leagues or teams and the third parties who have the right to access and used it, such as sports data providers and their customers.
In his aforementioned podcast interview, Steve Burton explained how controlling access to data was key to maintaining sports integrity. Since most data collected that is valuable must be done so quickly and accurately from sports venues, it is important to work with sports leagues and federations around access to venues, ticket conditions and ground regulations to prevent access to the data or ability to collect it.
Burton also noted that if data is unofficial, fast and accurate it also has value and could be used by illegal operators if they can access it. Since sports betting (legal and illegal) will continue to occur worldwide, it is in the interests of the sports and betting worlds to work together to protect this data and maintain sports integrity.
Some sports (American football, baseball, racing, and soccer) use AI and machine learning solutions and blockchain authentication technologies for processing and analyzing sports data to protect data, applications, and systems, while optimizing game and business operations.