World progressively relaxes COVID-19 restrictions in a return to pre-pandemic normality.
COVID-19 still circulating at elevated levels, as the world transitions to endemicity.
Pandemic costs begin to emerge with global life expectancy decreasing for the first time since the 1960s and economic losses estimated as at least USD 2.6 trillion in the US alone.
IMF estimates global real GDP growth of 3.4% for 2022 with inflation rising to 8.8%, giving rise to difficult macroeconomic conditions into Q1 2023.
Lotteries build on 2021 recovery from the pandemic with H2GC estimating 10.1% growth in lottery and sports betting revenues for 2022.
Return to retail, one-off sporting events, and strong growth in the digital channel power lottery and sports betting bounce back.
H2GC now projecting total global gross win (land-based plus interactive) to surpass pre-pandemic levels by end 2023.
In our continuing coverage of the COVID-19 pandemic and its impact on the global lottery and sports betting industry, we report on the global transition to living with the virus in a new normal and the concomitant response of the global lottery and sports betting industry. COVID-19 is becoming an endemic disease that will likely always be with us; however, thanks to the advent of efficacious vaccines, the link between cases and deaths in highly-vaccinated societies has – per The Lancet medical journal – been weakened, if not quite broken. Indeed, with the development of effective vaccines on the one hand, and high levels of vaccine-induced or hybrid population immunity on the other, The Lancet hopes that the severity of COVID-19 (after accounting for patient age and underlying conditions) is becoming closer to that of seasonal influenza.
Nonetheless, the damage wrought by the pandemic to humanity has been severe. For the first time since the 1960s, global life expectancy has fallen, by more than a year; outside the US, the decrease in life expectancy has been largely pandemic-related. See Figure 1. According to the journal Nature, more than ten million children have lost a parent or carer to the pandemic. And, the economic toll of the global health crisis has been immense, with the cost of COVID-19 in the US alone being estimated variously at anything from USD 2.6 trillion to USD 3.7 trillion at a minimum, according to studies from Harvard University.
Three years into the pandemic, the lottery and sports betting sector has emerged relatively unscathed from the global tumult caused by COVID-19. Despite lockdowns that severely impacted retail footfall and an absence of sporting fixtures that afflicted sports betting opportunities, both at the beginning of the pandemic, the sector rebounded in 2021, moving aggressively to online, optimizing retail sales channels otherwise, and innovating game content through new product launches and via the additions of extras and sundries to existing brands. In 2022, with the worst of the pandemic apparently in the rear view mirror, the industry has gone from strength to strength. Indeed, for lottery and sports betting operators reported upon in this bulletin, sales have increased by approximately 8.6% year-on-year, as summarized for selected entities in Table 1.
| Domicile | Entity | FY 2022 Sales (USD) (bn) | FY 2021 Sales (USD) (bn) | Delta (%) |
| --- | --- | --- | --- | --- |
| AU | The Lottery Corporation | 1.4 | 1.3 | 7.7 |
| BR | CAIXA | 4.3 | 3.4 | 25.6 |
| CA | OLG | 3.7 | 3.5 | 6.7 |
| CN | China Sports | 42.9 | 35.8 | 19.7 |
| CN | China Welfare | 23.0 | 22.1 | 4.1 |
| DE | Deutscher Lotto- und Totoblock (DLTB) | 9.4 | 9.3 | 0.9 |
| FR | FDJ | 24.4 | 22.4 | 8.7 |
| GR | OPAP | 2.3 | 1.8 | 26.0 |
| HK, CN | HKJC | 37.3 | 36.0 | 3.6 |
| MA | MDJS | 0.5 | 0.4 | 6.9 |
| SE | Svenska Spel | 0.9 | 0.9 | -1.3 |
| SG | Singapore Pools | 7.5 | 5.3 | 42.1 |
| UK | Camelot | 11.1 | 11.5 | -3.4 |
| US | California Lottery | 8.9 | 8.4 | 5.2 |
| US | Georgia Lottery | 5.8 | 6.0 | -4.0 |
| US | Texas Lottery | 8.3 | 8.1 | 2.3 |
| ZA | Ithuba | 0.5 | 0.4 | 9.8 |
| Total | | 192.2 | 176.9 | 8.6 |
Table 1. Year-on-year results for selected lotteries and sports betting operators reporting in this bulletin.
Key drivers leading to the positive results for the sector include:
The easing of pandemic restrictions worldwide, which has resulted in increased footfall across retail globally, which has in turn driven retail network sales and a recovery in land-based gaming more generally.
The one-off events UEFA 2020 European Championships (held in 2021) and the 2022 FIFA World Cup have led to big one-off increases in sports betting, especially in China.
The continued growth of the digital channel globally, driven by the response to the pandemic on the one hand, by the development of immersive betting applications and the increasing convenience of gaming on mobile devices, together with the ongoing liberalization of sports betting worldwide, most notably in the US.
In consequence, for the financial year 21/22 or calendar year 2022, most state-regulated lotteries and sports betting operators have enjoyed substantial growth, sometimes to record levels of lottery sales. In jurisdictions where sales have declined year-on-year, this has been a consequence of local conditions rather than any general industry downturn. Further, modulo some exceptions, the inflationary pressures and difficult macroeconomic conditions witnessed towards the end of 2022 have not yet impacted the industry significantly.
In the sequel, we take a closer look at the above for some of the world's major lottery and sports betting entities (and a smattering of smaller operators) across Africa, Asia Pacific, Europe, and Latin America, setting their operations and pandemic response in the context of current local conditions. For North America, where the state-based system gives rise to many operators, we consider several individual state-regulated lotteries, and make some comments on the market as a whole, highlighting sports betting operations in particular.
Africa
Of Africa's 54 nations, it has been South Africa and Morocco that have been hardest hit by the COVID-19 pandemic. Of the continent's 12.8 million confirmed cases, fully 31.7% or 4.1 million cases have been in South Africa, with another 1.2 million (9.4%) in Morocco. South Africa in particular endured some of the most stringent pandemic measures imposed in the continent, including sustained lockdowns where the purchase of non-essential items, including lottery tickets, was prohibited. After a difficult two years, COVID-19 restrictions were lifted in South Africa in June 2022; Morocco's state of health emergency was officially rescinded this past February. In 2023, the World Health Organization (WHO) reports that Africa is embarking on the fourth year of the pandemic with the hope of moving past its emergency response mode, thanks to broadened vaccination efforts – 29% of the population's continent is vaccinated as of January 2023, up from just 7% a year earlier – and better treatment regimes, which together are helping to decouple disease incidence from serious adverse outcomes.
Morocco
Morocco's La Marocaine des Jeux et des Sports (MDJS) saw sales rise by 6.9% over the course of calendar year 2022, as compared to calendar year 2021, from MAD 3.9 billion to MAD 4.1 billion. MDJS still managed to maintain growth in its commercial performance at nearly 7% compared to 2021 in a difficult operating environment, which encompassed: a COVID-19 wave in January 2022; an upsurge in the supply of illegal gaming in Morocco; and an emerging crisis in consumer purchasing power. In particular, after a strong rebound from COVID-19, Morocco's economy came under pressure in 2022 from a combination of overlapping supply shocks, including: the re-ordering of global supply chains; a severe drought; and a surge in commodity prices occasioned in part by the conflict in Ukraine. These factors fueled inflation, which peaked at 8.3% at the end of 2022. The Moroccan Dirham (MAD) has also been under sustained pressure, declining some 18% in value against its historical worth by early October 2022, before recovering somewhat towards the end of the year.
The total lifting of all COVID-19 health measures in 2022 allowed a return to normal in terms of attendance at points of sale and their performance, which undoubtedly contributed towards the strong showing of MDJS in the difficult macroeconomic situation. Another positive factor influencing the performance of MDJS in 2022 has been the growth in the number of players on the online platform, which MDJS explains by the accelerated digitization of players during the global health crisis; this before the launch of the new version of the online platform in September 2022.
South Africa
ITHUBA, the third operator of South Africa's National Lottery, began selling lottery tickets in June 2015.
Before the COVID-19 outbreak, ITHUBA enjoyed the highest ticket sales and contributions to the National Lotteries Distribution Trust Fund (NLDTF) since the South African National Lottery's inception in 2000, surpassing all previous operators.
ITHUBA's first four years saw a succession of record-breaking years. This trend was temporarily disrupted by the global COVID-19 pandemic, which severely impacted lottery operations at the start of FY2021. Revenues declined by 8.5% compared to the previous record-breaking year. Despite the extensive disruption caused by the pandemic and the extremely challenging operating environment – including widespread effects on the retail sector, lockdowns, a temporary six-week ban on selling lottery products in retail stores, and health and safety implications for staff and operations – the company's performance for FY2021 remained strong.
Before the pandemic, ITHUBA had anticipated the possibility of a major outbreak and implemented measures to ensure effective remote operations across all facilities. The company had a robust business continuity plan in place, including a remote working model that was activated during the pandemic to mitigate risks to business operations. ITHUBA's innovative thinking and contingency planning allowed for quick adaptation to the emergence of COVID-19 and related restrictions.
ITHUBA's agility during COVID-19 can be attributed to:
Rapidly scalable mobile app and E-Commerce systems that accommodated and serviced new online customers, along with unique expertise in partnering with banks to offer convenience for players purchasing tickets and receiving winnings automatically. This resulted in flexible and expandable online capabilities that more than doubled in capacity within months of the pandemic's outbreak.
ITHUBA's retail network included online channels with E-Commerce, a National Lottery App, and banking partner apps, which experienced rapid growth as a result. ITHUBA was able to resume normal sales quickly due to the remote working model and alternative channels for player participation.
Remote working and remote draw capabilities, digital and animated draw shows (not requiring ball machines or human presenters), and random number generators (RNGs) for selecting draw numbers. ITHUBA had previously implemented RNGs for selecting winning numbers and automated/animated draw shows, which enabled remote draws during the COVID-19 outbreak. ITHUBA South Africa successfully conducted all draws and operated all functions remotely from April 2020 to February 2022.
ITHUBA's pandemic preparation and COVID-19 response resulted in sales of ZAR 7.1 billion, 2.9% above the target, for FY2022. Sales for the previous corresponding period were ZAR 6.5 billion, a year-on-year increase of 9.8%.
In FY2022, ITHUBA's upward sales trend continued with another record-breaking performance and the highest on record for South Africa. A record contribution of ZAR 1.6 billion was transferred to the NLDTF, 3.1% ahead of the target. ITHUBA reports that the last year of operation FY2023, is also another record-breaking performance, with ticket sales exceeding R7.2 billion.
For ITHUBA, perhaps the most significant impact of COVID-19 on lottery operations in South Africa has been the dramatic shift in player preferences from purchasing tickets in retail stores to buying them online. Specifically, over half of all tickets purchased now come from online channels, compared to around 20% before the pandemic.
Asia Pacific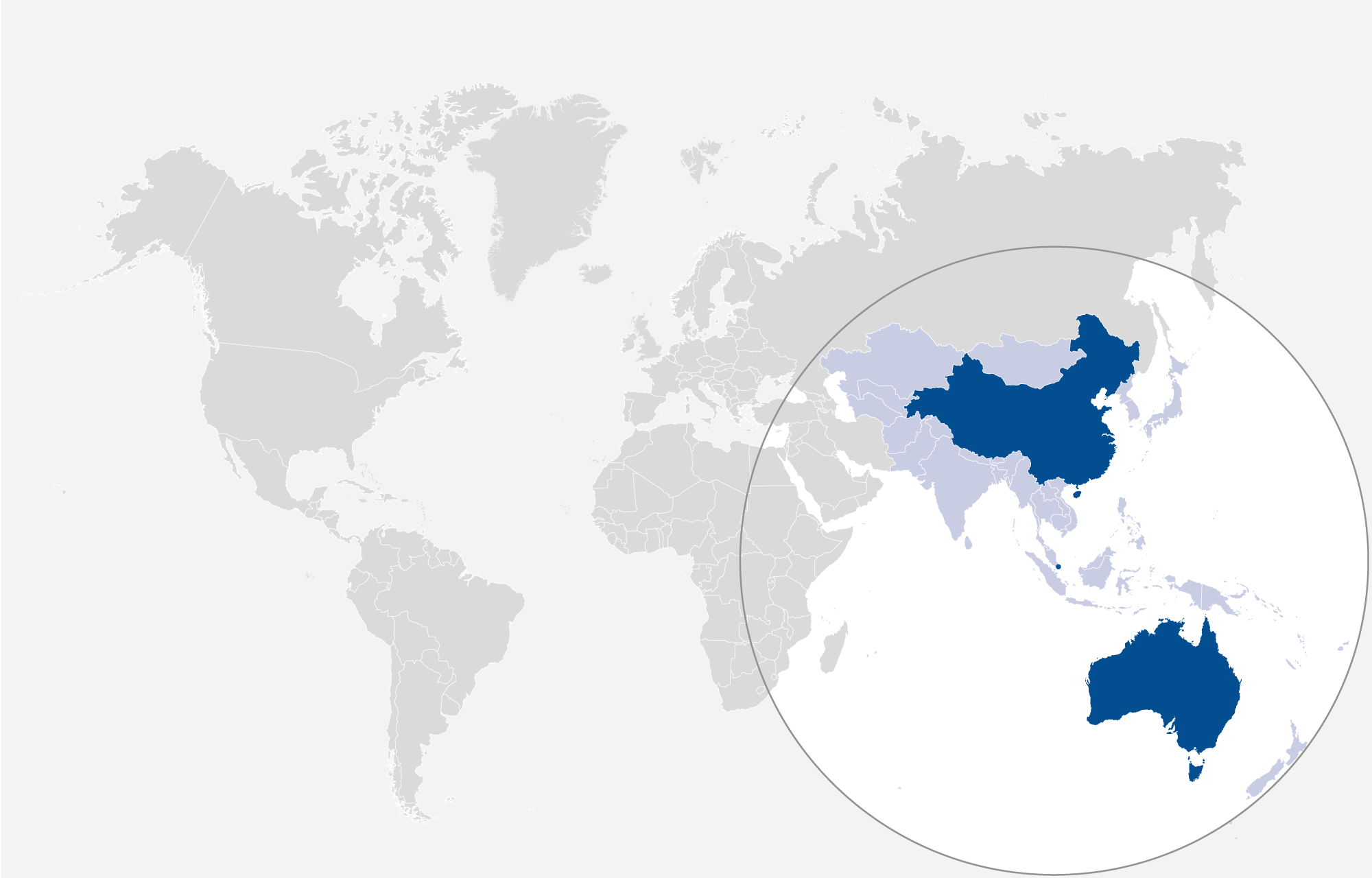 Despite being at the epicenter of the COVID-19 pandemic, Asia Pacific has been more successful than many other parts of the world in managing its response to the global health crisis, perhaps thanks to previous experiences with the SARS epidemic of 2002-2003 and the outbreak of MERS in Korea in 2015; Singapore in particular has had a model response, with very high (96%) vaccination rates and a case fatality rate of just 0.08%. India, with more than 44 million confirmed cases, was the country most impacted by the pandemic until November–December 2022, when China relaxed its 'zero-COVID' policy; at the time of writing, China has now seen more than 100 million confirmed cases of COVID-19. Australia, like several other countries in the Asia Pacific region, has steered a middle course, initially adopting a 'zero-COVID' policy in the absence of vaccines before pivoting to a 'living with COVID' policy in October 2021 after 70% of the population was vaccinated; the Australian government emergency response to COVID-19 ended in September 2022.
China
For much of the COVID-19 pandemic, China stood apart from other major nations in pursuing a 'zero-COVID' policy. Such regimens aim to eliminate (or to at least sufficiently supress) transmission of SARS-CoV-2 such that normal economic and social activity may be resumed. After quashing its initial COVID-19 outbreak in 2020, China succeeded – via a combination of aggressive containment measures, universal masking, comprehensive track and trace programs and quarantine measures, and public buy-in – in preventing significant spread of the virus causing COVID-19 until early 2022, when COVID-19 cases began to climb. The rise in cases made China's 'zero-COVID' policy increasingly untenable, with the result that the Chinese government relaxed many of its previous coronavirus restrictions towards the end of 2022, effectively ending the country's 'zero-COVID' policy. Since relaxing restrictions, cases have surged, with confirmed cases rising to an estimated 30,000 per day. At the time of writing, it was too early to assess the impact, if any, on the lottery and sports betting industries of China's course change in its management of the pandemic.
Over the course of calendar year 2022, then, China's 'zero-COVID' policy remained largely in place. During this time, sales from the China Sports Lottery Administration Centre (China Sports) and the China Welfare Lottery Issuance and Management Centre (China Welfare) – the two mainland China lottery and sports betting operators – amounted to CNY 424.7 billion. Year-on-year, sales increased by CNY 51.4 billion (13.8%). Sales from China Welfare composed 34.9% of the total, at CNY 148.1 billion, while sales from China Sports composed 65.1% of the total, at CNY 276.5 billion. Year-on-year, sales at China Welfare increased by 4.1%, or CNY 5.9 billion, while sales at China Sports rose by CNY 45.5 billion, a 19.7% increase, reflecting the influence of the 2022 FIFA World Cup.
Indeed, figures for December 2022 reveal the impact of the 2022 FIFA World Cup on the mainland China lottery and sports betting market. In December 2022, a total of CNY 61.8 billion in lottery products were sold, an increase of 91.7% over the corresponding revenue period of December 2021. Over this month-to-month timeframe, sales from the China Welfare lottery decreased CNY 2.4 billion to CNY 11.8 billion, a decline of 16.9%. In contrast, sales from the China Sports lottery increased CNY 32 billion to CNY 50.0 billion. The 177.5% increase in growth at China Sports was driven mainly by the 2022 FIFA World Cup.
The influence of the 2022 FIFA World Cup on the mainland Chinese market is similarly underscored when broken down by product vertical. Over the course of 2022, sales of sports betting products amounted to CNY 180.9 billion, a year-on-year increase of CNY 46.6 billion, or 34.7%. Most of this growth was driven by the 2022 FIFA World Cup: in December 2022 alone, sports betting sales exploded to CNY 43.0 billion, an increase of 346.5% or CNY 33.4 billion over the corresponding revenue period for December 2021. In contrast, 2022 sales of numbers games decreased by 4.0% year-on-year to CNY 155.4 billion, a decline of CNY 6.4 billion in absolute terms; the delisting of high-frequency quick play games across the Chinese mainland may have contributed to this decline. For their part, instant lottery sales increased 9.3% or CNY 5.0 billion year-on-year to CNY 59.4 billion, while Keno-type sales grew by 27.22% year-on-year to 28.9 billion, an absolute increase of CNY 6.2 billion. Expansion of the scope of sales of Keno-type lottery tickets likely positively impacted Keno sales.
By product segment, 2022 sales of sports betting products, numbers games, instant tickets, and Keno tickets amounted to 42.6%, 36.6%, 14.0%, and 6.8% of the market respectively. Video lottery sales, which had market share prior to the COVID-19 pandemic, were negligible in 2022.See Figure 2. Year-on-year, sales increased across all provinces, excepting Jilin, Shanghai, Hainan, and Tibet, with Guandong, Zhejiang, Jiangsu, and Shandong seeing the lion's share of the indicated increases.
Figure 2. Change in composition of the mainland China market, pre-pandemic versus today.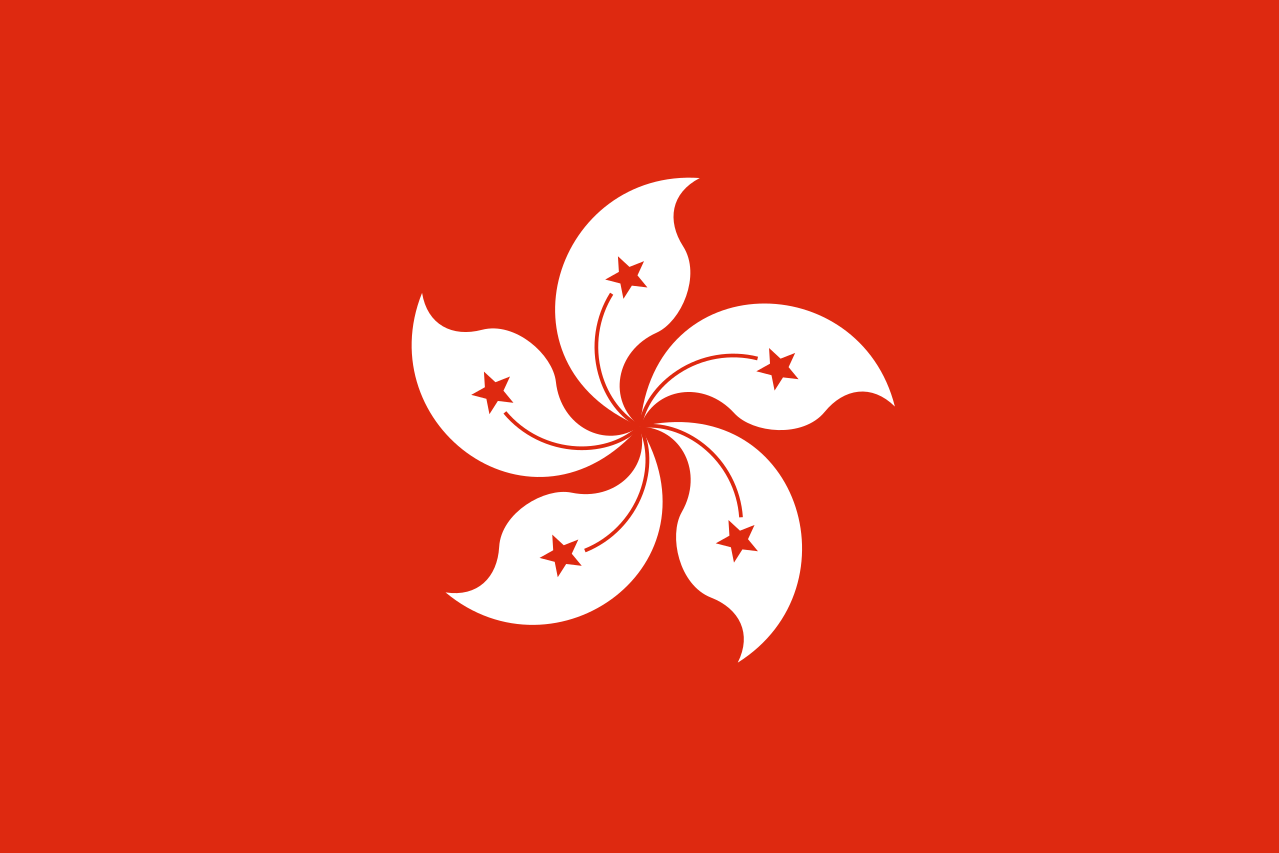 Hong Kong, China
Following similar moves in mainland China, most pandemic restrictions in Hong Kong, China were relaxed at the end of December 2022; the leader of the Special Administrative Region, John Lee, cited high vaccination rates as one of the reasons for lifting restrictions (more than 83% of the population has received three or more COVID-19 vaccinations). Previously, like mainland China, a 'zero-COVID' policy had been in place across the territory; and again, as on the mainland, a rise in COVID-19 cases occasioned by a fifth wave of the pandemic beginning in late December 2021 made the Special Administrative Region's 'zero-COVID' policy increasingly difficult to sustain, leading ultimately to the aforementioned relaxation of strictures.
Despite a challenging year in which Hong Kong was hard hit by the COVID-19 pandemic, the Club achieved new record turnover of HKD 290.0 billion (USD 36.9 billion) in FY2021/22. This enabled the Club to transfer a record HKD 33.6 billion (USD 4.3 billion) to the community, including a record HKD 27.0 billion (USD 3.4 billion) in betting and lottery duty, profits tax and Lotteries Fund contributions to the Government of the Hong Kong Special Administrative Region (HKSAR). Approved charity donations increased to HKD 6.6 billion (USD 0.8 billion), of which HKD 1.4 billion (USD 0.2 billion) was specially set aside to fight the pandemic. The Club's Charities Trust remains one of the world's top ten charity donors.
HKJC has main product offering of horse race betting, football betting, and the Mark Six lottery. Racing turnover for FY2021/22 was up 3.1% to HKD 140.4 billion (USD 17.9 billion), while turnover for the racing season (September – July) was up 3.0% to HKD 140.5 billion (USD 17.9 billion). Racing betting duty returned to the HKSAR Government for FY2021/22 was up 2.9% to HKD 14.1 billion (USD 1.8 billion).
The racing season took place in part during a fifth wave of COVID-19. Despite this, not a single day's racing was lost to the pandemic thanks to the innovative, agile and proactive measures taken by the Club, along with the strong support from the government, both in Hong Kong and Mainland China. These measures included a highly effective "international racing bubble" that made it possible to invite top overseas jockeys and horses to Hong Kong safely and strengthened health measures instituted in the fifth wave of COVID-19, such as daily PCR testing of personnel central to racing operations.
While racing turnover from Hong Kong customers slightly decreased during the pandemic, the main driver of growth was overseas customers commingling into the Club's pools. International simulcast days increased to 37 last year which brought in a significant growth in turnover. Another key business growth comes from the World Pool initiative where the number of World Pool events (e.g. Royal Ascot, the Prix d l'Arc de Triomphe) increased to 21 last year, making Hong Kong a global hub for wagering on world-class racing.
Football betting also enjoyed a very positive performance in FY2021/22, with turnover up 2.6% to HKD 143.8 billion (USD 18.3 billion), exceeding the record turnover of the previous year. Football betting duty was up 6.5% to HKD 9.8 billion (USD 1.25 billion). Turnover increased on the back of later stages of the postponed Euro 2020 and the rescheduling of the Africa Cup of Nations and other regional tournaments into 2021/22 owing to the pandemic; the 2022 FIFA World Cup was held after the end of the relevant financial period.
With respect to the Mark Six lottery, the club was able to increase the number of draws from the previous year, despite the pandemic. This resulted in a turnover increase of 72.6% to HKD 5.8 billion (USD 0.7 billion) versus the previous corresponding period; lottery duty and Lotteries Fund contributions of HKD 2.4 billion (USD 0.3 billion) was generated. .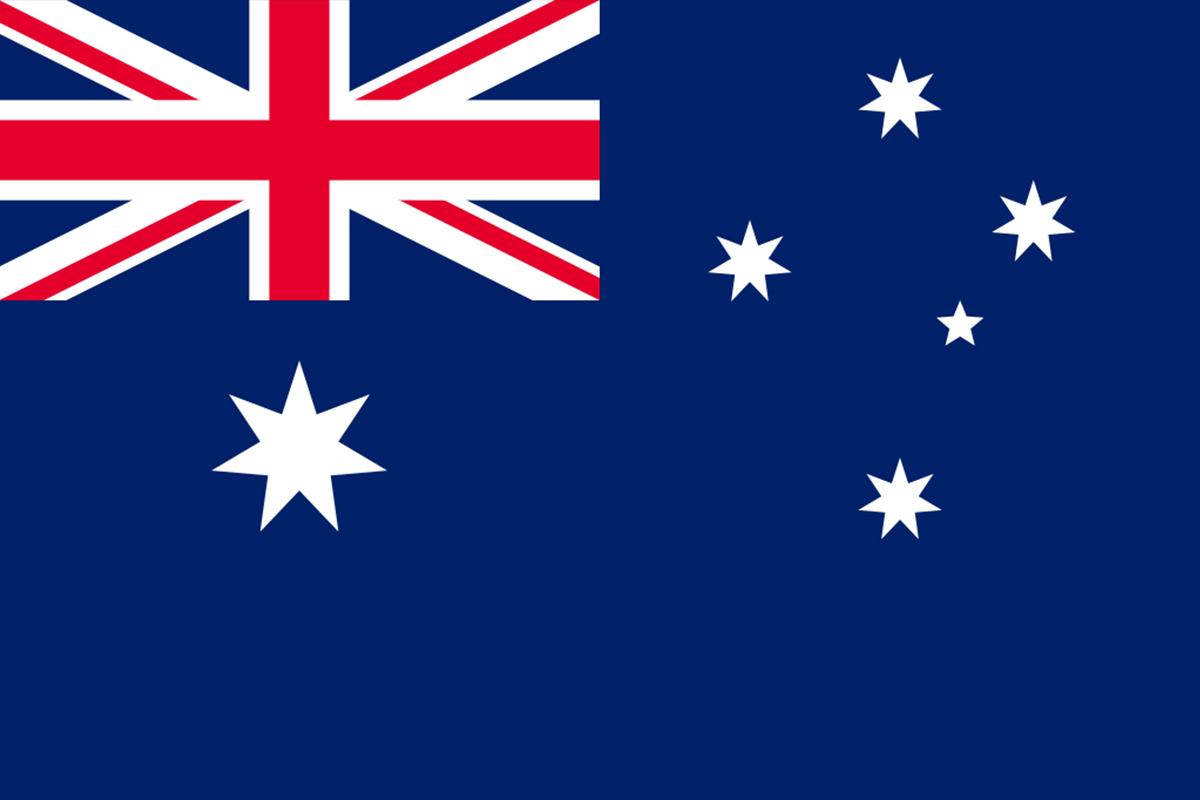 Australia
The Australian lottery and sports betting landscape witnessed significant changes in 2022, with Tabcorp Holding Limited's lotteries and Keno business demerged and spun out into a separate company, The Lottery Corporation. Previously, Tabcorp operated three business units – lotteries and Keno, wagering and media, and gaming services – with its lotteries and Keno division operating state-regulated lotteries in all of Australia's states except Western Australia. The Lottery Corporation is now the leader in Australia's lotteries and Keno market, operating the brands 'The Lott' and 'Keno'.
For the final six months of 2022 (H1 2022/23 financial year), the Lotteries business unit of The Lottery Corporation reported comparable lotteries revenue of AUD 1.8 billion, up 6.5% on the previous corresponding period. Growth in the Lotteries division was principally driven by active portfolio and jackpot sequence management, growth across all distribution channels, and an improved digital product mix. The Lotteries business unit reported that there were no material net impacts evident in the period from the COVID-19 pandemic.
The Lottery Corporation's jackpot games (Powerball and Oz Lotto) grew turnover by 11.1% on the previous corresponding period. Growth was underpinned by performance of the Powerball game, where management of a temporarily accelerated jackpot sequence and generally favorable jackpot outcomes contributed to a record-breaking AUD 160 million draw in October 2022.
The retail channel delivered continued turnover growth, up 3.5% on the previous corresponding period. Digital turnover continued to grow strongly at up 10.6% on the previous corresponding period, accounting for 38.4% of all turnover in the half. Active registered customers – viz., registered customers having purchased a lottery ticket in the past 12 months – grew by 221,000 in the half to 4.3 million; Australia's population excluding Western Australia is 23 million.
The Keno division of The Lottery Corporation reported revenues of AUD 147.4 million for H2 2022, up 23.9% on the previous corresponding period on a comparable basis. The return to unrestricted trade in New South Wales, Victoria, and the Australian Capital Territory and an increase in footfall in Queensland following relaxation of restrictions occasioned by the COVID-19 pandemic contributed to the strong revenue growth.
Commenting on the debut of The Lottery Corporation in May 2022 in the Australian market, Managing Director and Chief Executive Officer Sue van der Merwe said, "I'm pleased to say we've made a winning start as an ASX-listed [Australian Stock Exchange-listed] company, continuing the momentum that the business has created in recent years. […] During the half the team continued to deliver initiatives to strengthen our omni-channel offer and the customer experience. The Lott welcomed 221,000 registered customers in the past six months, taking our total to more than 4.3 million."
"Lottery products are played by the equivalent of half the Australian adult population and are a low-involvement purchase decision with an average weekly spend of AUD 12. Through the sale of our products, we were able to help generate AUD 1.7 billion in taxes for governments in FY22. We're committed to continuing to offer exciting games that not only deliver life-changing wins to our customers but make a meaningful difference in the community," asserted Ms. van der Merwe.
Singapore
Singapore Pools reported sales of SGD 10.1 billion for the financial year ending in 2022, the most recent reporting period for which figures are available. Revenues were up 42.1% compared to the financial year ending in 2021, reflecting recovery by the Singapore national operator whose operations were completely suspended during the nationwide lockdown and circuit breaker in Q1 2021 which resulted in much lower sales figures for FY 2021. Compared to the FY 2019/20 revenue period, the last pre-COVID-19 data set, revenues increased approximately 13% year-on-year (SGD 10.1 billion vs. SGD 8.9 billion) following the relaxation of restrictions imposed during the COVID-19 pandemic and resumption of events.
Sports betting was a key driver of growth, as five new soccer leagues from Latin America were added to Singapore Pools' product offering. One-off sporting events, including the deferred 2020 UEFA European Football Championship, also led to a once-off increase in revenues; the 2022 FIFA World Cup was held outside the revenue period in question. While lottery revenue (TOTO, 4D, and Singapore Sweep) rebounded to pre-pandemic levels, horse race betting revenue remained below par, owing mainly to the enforcement of safe management practices.
Betting duties and taxes amounted to SGD 2.1 billion for the financial year ending in 2022, returning to the same levels recorded prior to the COVID-19 pandemic. Surplus to the Singapore Tote Board for the financial year ending in 2022 ticked up to SGD 464 million, owing to increased revenue and lower operating expenses; revenues reported for the financial year ending in 2020, from the last pre-COVID-19 data set, were SGD 456 million.
Europe
As of November 2022, Europe was the region most affected by the COVID-19 pandemic in the world, with France, Germany, and the United Kingdom among the worse-affected countries in terms of total case counts; collectively, the countries of Europe have accounted for nearly 36.8% of cases globally. (For contrast, Europe accounts for approximately 9.4% of the world's population.) Nonetheless, as elsewhere in the world, most European countries progressively rolled back COVID-19 restrictions following aggressive vaccination campaigns, accepting the endemicity of COVID-19 in a return to the 'new normal'. Thus, all restrictions in the United Kingdom were lifted in February and March 2022; Greece relaxed restrictions from May 2022; and France transitioned to the endemic phase of COVID-19 by August 2022, having lifted restrictions progressively from February 2022. In Germany, leading virologist Christian Drosten, head of virology at Charité University Hospital in Berlin, felt able by December 2022 to assert that the COVID-19 pandemic was largely over; according to calculations by the Munich Ifo Institute, the pandemic has reduced Germany's economic output by at least EUR 330 billion since March 2020. An outlier among the countries of Europe, Sweden pursued a 'laissez-faire' or 'live and let live' approach to managing COVID-19, with the country having never formally locked down at any point during the pandemic.
United Kingdom
For the second consecutive year running, Camelot achieved its best ever returns to good causes from National Lottery ticket sales. Including unclaimed prizes, GBP 1,911.8 million was generated for good causes over the 2021/22 financial year, the most recent period for which figures are available. This record amount was generated from sales of GBP 8,090.7 million, occasioning only the second time in The National Lottery's history that ticket sales have broken the GBP 8 billion mark. This strong performance also ensured that a record-equaling GBP 3.1 billion was once again generated for society through good causes, lottery duty, and retailer commissions – this at a time when other funding sources are being squeezed.
Commenting on the 2021/22 financial year results, Camelot remarked that achieving National Lottery sales of over GBP 8 billion two years in a row while maintaining very high levels of public participation – despite the challenging and changing external environment – proved that its strategy of offering great consumer choice in a safe and convenient way continues to be hugely successful. Camelot further asserted that this is testament to the resilient, innovative, and responsive business model the company has put in place over the past several years.
As Covid restrictions continued to ease across the United Kingdom in 2022, The National Lottery supported a number of initiatives to boost the entertainment, sport, and tourism industries. These initiatives included: The National Lottery's Revive Live Tour, which was delivered in partnership with Music Venue Trust; The National Lottery's Days Out promotion, which offered Lotto players GBP 25 off at top attractions and experiences; and National Lottery Football Weekends and National Lottery Cinema Weekend, which gave players discounted or free entry to specific matches and film screenings just by showing their National Lottery ticket.
Making up almost 60% of sales, retail remained the largest National Lottery sales channel and Camelot continues to work closely with around 44,500 retailers across the UK; independent outlets compose the majority of the retail network. Despite the ongoing challenges caused by the COVID-19 pandemic in the early part of 2022 affecting both footfall and shopper frequency and, more latterly, the cost of living crisis slowing down retail recovery as consumers tightened their belts, Camelot achieved in-store sales of GBP 4,674.2 million across financial year 2021/22. In digital, despite having a record number of people playing online in 2021/22, the year's digital sales of GBP 3,416.5 million were GBP 93.0 million lower than the previous financial year. The slight decline in revenues was attributable to players individually spending less as consumers enjoyed greater choice post-lockdown, and also due to the introduction of lower online play and wallet limits for potentially at-risk players.

France
FDJ Group experienced very strong results in 2022, with group stakes up 8.7% to EUR 20.6 billion versus the financial year ended 31 December 2021. Revenues (net gaming revenue and revenue from other activities) were up 9% to EUR 2.5 billion, in line with the growth in stakes.
After a first half of the year that continued to benefit from the post-Covid recovery, the second half of the year was in line with the Group's growth projections, with revenue up 6%, a level close to the Group's historical growth trajectory. H2 2022 growth benefitted from the effect of the 2022 FIFA World Cup held at the end of the year.
Business activity was up for all business activities and across all channels. In particular, stakes for lottery games increased 10.1% year-on-year to EUR 16.2 billion, reflecting the strong intrinsic momentum of FDJ's traditional lottery products and a return to normality across the point of sale network. The performance of draw-based games was buttressed by the attractiveness of Loto and Euromillions, on account of a significant number of large jackpots. Instant game performance was driven by a refresh of the instant product portfolio and numerous successful game launches and relaunches in particular. Revenues were up 11% year-on-year for the lottery business to EUR 1.9 billion.
Year-on-year, stakes for sports betting and online gaming open to competition increased 3.7% to EUR 4.4 billion. After an H1 2022 that compared unfavorably to H1 2021 owing to the postponed 2020 UEFA European Football Championship being held in June–July 2021, activity redounded positively from August 2022, on account of the resumption of European championships and the 2022 FIFA World Cup. The French team's strong performance resulted in a very high player payout ratio, with this competition contributing 6% of the business' annual revenue. In all, revenue from sports betting and online gaming open to competition revenue was EUR 467 million, up 1% year-on-year.
There was significant growth in point-of-sale stakes across the retail network, with sales increasing to EUR 18.1 billion (7.7% year-on-year). Growth was driven by high traffic, reflecting the attachment of consumers to the physical points of sale, together with the attractiveness of FDJ's gaming offering. The size of the retail network remained stable at approximately 30,000 points of sale.
There was sustained momentum in the growth of online stakes, with sales increasing to EUR 2.5 billion (16.0% year-on-year). Normalization of the growth in digital stakes followed two years of very strong growth in the channel: between 2019 and 2021, digital stakes doubled, with changes in consumer behavior accelerated by the global health crisis. Digital sales now represent more than 12% of total group stakes. The increase in digital stakes continued to be essentially attributable to increases in player numbers. In terms of the lottery business, there are now close to 5 million players, double that of 2019. Two-thirds of players also play at physical points of sale.
For the seventh consecutive year, the Bureau d'information et de prévision économique (BDO-Bipe) assessed FDJ Group's economic and social contribution in France, estimating in particular that FDJ's contribution to national wealth was EUR 6.5 billion in 2022, or 0.25% of gross domestic product (GDP). In particular, FDJ's overall contribution to public finances was EUR 4.4 billion, with beneficiaries including French sports (both professional and amateur) and endangered French heritage sites. The benefits delivered by FDJ to the French people were grounded in FDJ's offer of fun and entertaining games, underpinned by the Group's strict responsible gaming measures: in 2022, more than 10% of the overall advertising budget was dedicated to responsible gaming, with strengthened awareness-raising and control measures introduced to prevent excessive underage gambling.
Commenting on the 2022 results, Stéphane Pallez, Chairwoman and CEO of FDJ Group said, "FDJ recorded very strong results for the year as a whole, marked by an increase in all of our business activities, supported by significant growth in our 30,000 points of sale and sustained momentum online. This good performance benefits all our stakeholders, in particular our employees, our retailers and our shareholders. The Group also continued to strengthen its social commitments, in particular its actions to prevent excessive and underage gambling. Backed by his financial and non-financial performance, the Group is confident in its strategy and its prospects to create balanced value in the medium term."

Greece
OPAP, Greece's leading gaming operator, closed out a notable year with record-high GGR for Q4 2022 of EUR 540.9 million. Final quarter GGR was up 8.5% year-on-year, reflecting increased playability in both online and retail, all underwritten by the 2022 FIFA World Cup, which elevated footfall and playability across channels, increasing occasional players' engagement in particular. FY 2022 GGR came in at EUR 1,939 million, compared to FY 2021 GGR of 1,538.8 million – a year-on-year increase of 26.0% – on the back of elevated gaming demand and a broadened online customer base.
VLTs were the best performing vertical in terms of Y-o-Y increase, with FY 2022 GGR increasing 63.6% year-on-year to EUR 318.4 million, reflecting accelerated footfall occasioned by the operation of the stores for the entire 2022 (vs several months of closure in 2021) alongside relaxation of social distancing strictures and other COVID-19 pandemic measures. In FY 2022, VLTs composed 16.4% of total revenues, compared to 12.6% in FY 2021.
Lottery remained OPAP's largest product segment, with 36.6% of FY 2022 total revenues, slightly increasing its segment share from the 35.7% reported in FY 2021. Year-on-year, GGR increased by 29.2% from EUR 549.2 million to EUR 709.5 million on the back of strong trading versus the previous year's lockdowns.
GGR from betting operations increased to EUR 603.7 million, a 15.8% increase on GGR of EUR 521.4 million reported in FY 2021. Full-year growth was driven by continuous retail operations across 2022, together with a strong online contribution, while Q4 2022 results were driven by the 2022 FIFA World Cup. The absolute increase in betting stakes notwithstanding, the vertical's share of total GGR decreased slightly from 33.9% in FY 2021 to 31.1% in FY 2022.
GGR from instants grew by 21.5% in FY 2022 to EUR 107.9 million from EUR 88.8 million in FY 2021. Instants' market share remained relatively unchanged from FY 2021, ticking down to 5.6%. Revenues from online casino rounded out the product portfolio.
Across all games, the overall share of GGR attributable to digital declined, from 28.6% in FY 2021 to 23.2% in FY 2022. In turn, the share of GGR through retail increased from 71.4% in FY 2021 to 76.8% in 2022 across all channels. Almost all the growth in the largest market segment, lottery, was in retail, reflecting fully functional retail networks operating throughout the entirety of 2022, while GGR from digital sources actually declined in absolute terms in the betting vertical, from EUR 239 million in FY 2021 to EUR 233 million in FY 2022. Across games offered in both channels (retail/digital), the online contribution of digital held steady at approximately 37%. OPAP is continuing to digitalize its in-store experience via the OPAP Store App, and has launched a few weeks ago a new online sports betting offering with attractive dynamics and its new iLottery proposition, offering to its customers a new entertainment hub.
Commenting on OPAP's Q4 2022 performance, CEO Jan Karas said "OPAP reported a record-high quarterly performance in Q4, rounding off a remarkable year, with tangible progress in the implementation of our strategic objectives and increased activity across our channels." Mr. Karas continued, "Moreover, responding to our customers' needs and expectations, we recently launched a revamped and competitive OPAP online sports betting proposition, aiming to deliver an even more entertaining experience. At the same time, the in-store digital offering upgrade is well on track and bearing fruits, supporting the expansion of our overall customer base and network footfall."
In connection with forthcoming developments, Mr. Karas remarked, "Looking ahead, we will focus on showcasing our retail estate as local affordable entertainment destination. We will also expand our online presence, through our iLottery proposition, which completes our online gaming arsenal. Last but not least, we remain committed on delivering sound financial results, while taking further steps towards realizing our vision of offering best-in-class entertainment and giving back to society."

Germany
In Germany, like the US and Canada, lotteries are organized at the state rather than federal level. A total of 17 separate lotteries operate in Germany, 16 of which are run by the individual states (Bundesländer). Unlike in North America, however, the 16 state-regulated lotteries operate under the aegis of an umbrella organization, the Deutscher Lotto- und Totoblock (German Lotto and Toto Block, or DLTB). The DLTB ensures the 16 state lotteries operate under standardized rules.
Total stakes accrued in calendar year 2022 from the 16 state lottery companies comprising the DLTB amounted to EUR 7.97 billion, a marginal increase of 0.9% compared to the previous year. Approximately EUR 3.18 billion, or EUR 8.73 million per day, was returned to the common good.
In keeping with tradition, LOTTO 6 from 49 remained the most popular lottery game in Germany, with stakes for the classic game amounting to some EUR 3.84 billion, or almost 50% of the total stakes recouped by the German state-licensed lotteries in 2022. Commenting on the results, managing director Axel Holthaus of leading block partner LOTTO Niedersachsen said that the slight decline in sales compared to the previous year could be explained by shorter jackpot phases. The classic lotto game is being refreshed with a new look in 2023, thanks to a re-designed drawing studio in Saarbrücken, new drawing machines for both LOTTO 6aus49 and the super number, and new lottery balls for the draw. The previous draw equipment is entering well-deserved retirement after more than 60 years of service. A novel feature of the refurbished draw sees an enlarged draw drum with inner camera, which presents the view of the draw from inside the draw drum for the first time.
The second most popular game in the German market in 2022 was the transnational numbers game Eurojackpot, with approximately EUR 1.76 billion in stakes wagered in 2022. This means that around 22.06% of the total stakes recouped by the German state-regulated lotteries in 2022 can be attributed to the pan-European game. The block game has increased in popularity with the German public since Eurojackpot product changes were introduced in March 2022. Changes to the game matrix mean that players now bet on 5 out of 50 winning numbers and 2 out of 12 euro numbers, with the probability of winning the jackpot (5 + 2) now standing at approximately 1 in 139.8 million. In consequence, a top-tier prize of up to €120 million can now be won. A second Eurojackpot draw was also introduced on Tuesday. Summarizing the changes to the gameplay, Axel Holthaus remarked, "Eurojackpot expresses the European gaming spirit in the 18 participating countries and thrives on high jackpots. We are therefore pleased that since the product changes introduced in 2022, three jackpots above EUR 100 million have already been won."
In 2022, games from the digital product portfolios of the lotteries comprising the DLTB generated a total of EUR 1.09 billion in stakes, an increase of 10.7% over revenues of EUR 985 million reported in 2021. Commenting on the performance of digital, Managing Director of leading DTLB partner Sven Osthoff said, "With the help of secure and modern technology, the 16 state lottery companies are comprehensively fulfilling their channeling mandate on the Internet after. Likewise, the lottery principle, which is geared towards the common good, will continue to be kept future-proof through digital transformation." On the other hand, retail continues to play a key role for the DTLB, with the dense network of around 21,000 points of sale throughout Germany forming a major pillar of the product range offered by Germany's state lottery companies.
Taxes and duties paid into respective state budgets from lottery operations benefited welfare, sports, art, culture, monument preservation, and environmental protection. Climate protection is becoming an increasingly important concern for the German state lotteries, to the extent that projects such as photovoltaic systems are being supported from the lotteries' own funds. The state lottery companies' gaming for the common good is expressly regulated by the 2021 State Gambling Treaty (GlüStV 2021) on the basis of regulatory law and within the framework of federal responsibility. The GlüStV 2021 entered into force on 1 July 2021.

Sweden
In calendar year 2022, Swedish gaming conglomerate AB Svenska Spel reported full year GGR of SEK 8 billion, down 1.3% on 2021 full year GGR of SEK 8.1 billion. Gross gaming revenues held steady for the Swedish operator. COVID-19 restrictions that required the closure of its casino business during the first half of 2021 had an impact on the revenues. The strengthened responsible gaming obligations imposed on Svenska Spel's Sports-&-Casino and Vegas units since end 2021 is reflected in the performance 2022.
Fourth-quarter GGR declined 2.2%. The Swedish national team did not qualify for the Qatar tournament, despite being ranked among the top twenty teams in the world at the time. The World Cup was also a hiatus for numerous of the regular national football leagues, limiting the offerings of products like Stryktipset, Europatipset, and Topptipset.
Svenska Spel's casino operations saw GGR increase by SEK 258 million year-on-year, on account of strictures imposed in 2021 in response to the COVID-19 pandemic. Restrictions included limited opening hours and the requirement for a COVID-19 vaccination certificate to enter and play. Casino operations during the first two months of 2022 were also affected by COVID-19 constraints, with an estimated negative impact on GGR of about SEK 50 million.
In other developments in calendar year 2022, Svenska Spel launched the game Fullträff: with a jackpot of at least SEK 50 million SEK, the new offering completes Svenska Spel's portfolio of sports games. More generally, as alluded to above, the jackpot cap in the pan-European Eurojackpot game increased from around SEK 900 million to more than SEK 1 billion, and an additional draw per week was introduced. The ticket price point remained unchanged. Sweden has participated in Eurojackpot since 2013; the preceding developments in game play applied to all participating countries.
In closing out 2022, Svenska Spel declared group profits of SEK 2 billion, matching the company's proposed state contribution for the year. Over the course of its 25-year history, the Swedish national lottery has retuned over SEK 100 billion to the Swedish state treasury to further the public good.
Latin America
The COVID-19 pandemic has been particularly bad in Latin America. Brazil remains one of the world's most heavily impacted nations, behind only the United States, China, and India. In particular, it has been the country worst impacted in Latin America; of Latin America's 68.3 million confirmed cases of COVID-19, fully 54.6% (37.3 million) have been in Brazil alone. Today, approximately 85% of Brazilians are at least partially vaccinated, and most states in Brazil are no longer enforcing COVID-19 restrictive measures.
Brazil
In 2022, the Brazilian Federal lotteries managed by CAIXA enjoyed a historic return, exceeding BRL 23.2 billion (USD 4.46 billion) in sales. This represented an increase of 25.6% over the corresponding results for 2021, where sales amounted to BRL 18.5 billion across CAIXA's product portfolio.
Mega-Sena, a number game, once again proved the mainstay of Loterias CAIXA, contributing with more than BRL 10.9 billion in total sales in 2022, which represents 47% of CAIXA's gaming revenue.
Each year, five percent of the proceeds of regular Mega-Sena draws are put aside for the special New Year's Eve draw, the Mega da Virada. On account of its large jackpot, the draw is extremely popular with the Brazilian populace. The biggest draw of Loterias CAIXA celebrated its 14th edition with the largest pool prize in the history of CAIXA, amounting to BRL 541.9 million. Sales for the Mega da Virada 2022 surpassed BRL 1.9 billion, also a record, and 29.6% above the previous record established in the 2021 edition of the special draw.
In short, the Loterias CAIXA had the best year in its history in 2022. The growth was largely leveraged by a series of proactive actions implemented by the Federal Lotteries, including the launch of the new product +Milionária and the reformulation of the Timemania product, both in May 2022, changes in the Mega-Sena games matrix to increase the number of combinations playable per draw from 5,005 (15C6) to 38,760 (20C6) and the implementation of QR Codes on betting receipts.
In 2022, Loterias CAIXA transferred a total of BRL 10.9 billion to beneficiaries, focused on priority areas including security, public safety, health, education, sports, and culture. Funds contributed to the public good in 2022 amounted to a new record, being 23% greater than transfers made in 2021, when the Federal Lotteries contributed BRL 8.8 billion to the public purse. Almost half of the total revenues collected from CAIXA's games, including the percentage destined for income tax, is passed on for the benefit of society. In this way, Loterias CAIXA continue to form a very important source of funding for socioeconomic development in Brazil.
The significant results in sales, social transfers, and prizes offered to the playing public in 2022 capped Loterias CAIXA's 60th anniversary in offering entertaining and socially responsible games for raising funds for the public good. Commenting on Loterias CAIXA's performance, the President of CAIXA, Rita Serrano, said, "The results consolidate the credibility and important social role of the Loterias CAIXA for the socioeconomic development of the country, which, in addition to being fundamental for the maintenance of public policies, provide opportunities for the dreams of players to come true through millionaire prizes."
North America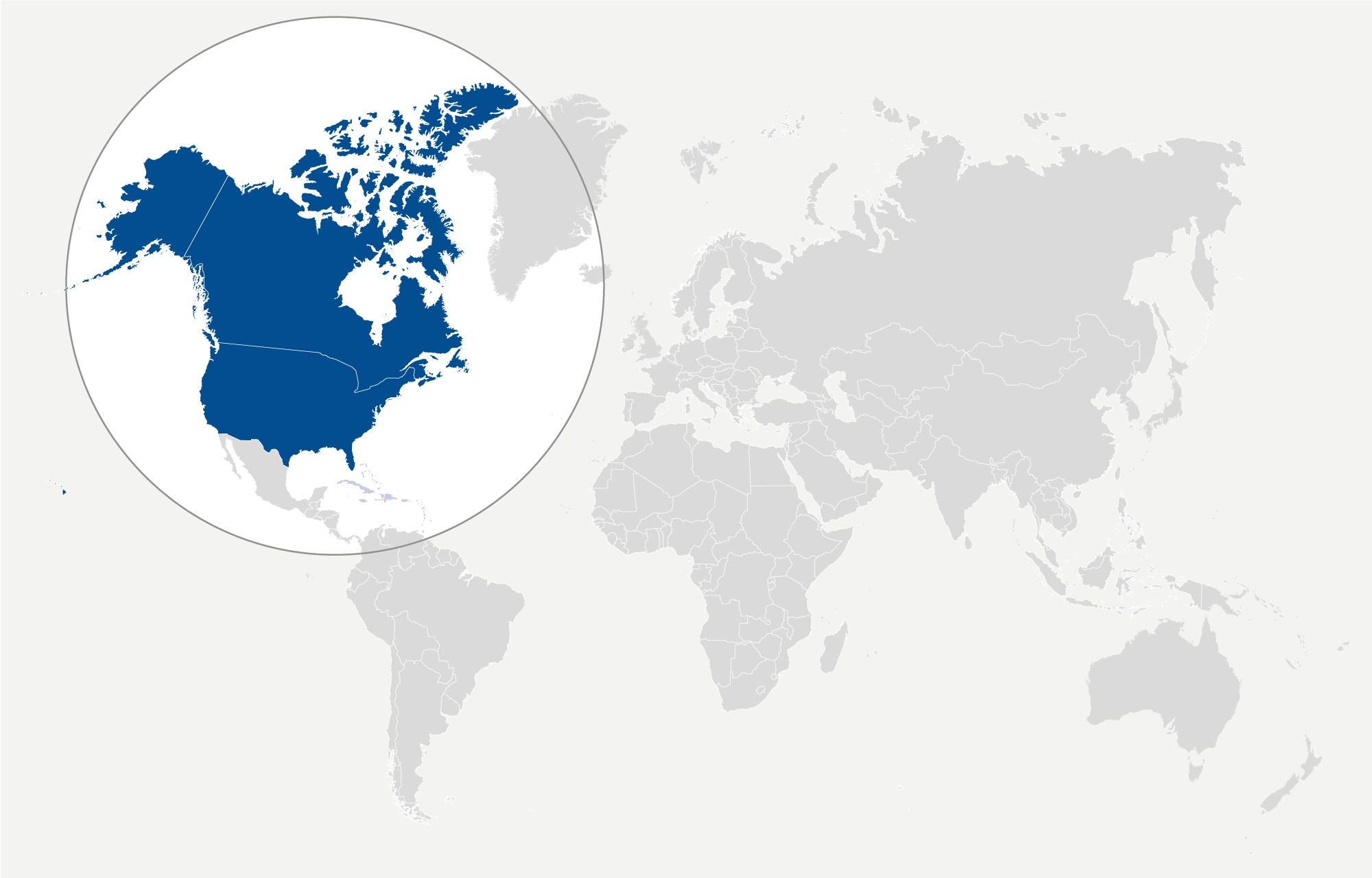 North America's COVID-19 response has been dominated by the US, which has continued to have among the world's poorest pandemic outcomes to date, at more than 102 million confirmed cases and 1.2 million fatalities. Management of the pandemic in the US has been driven in part by a highly politicized and polarized response to the global health crisis. Canada has fared somewhat better in its pandemic management, owing to a more coherent response built on the back of a broad-based vaccination program. Following a January 2022 COVID-19 wave (Omicron), restrictions across Canada were lifted by mid-2022, as case loads began to decline across the country, while in the US, the national emergency occasioned by COVID-19 was terminated on 10 April 2023. This national emergency was separate from the public health emergency associated with the COVID-19 pandemic, which will remain in force until 11 May 2023.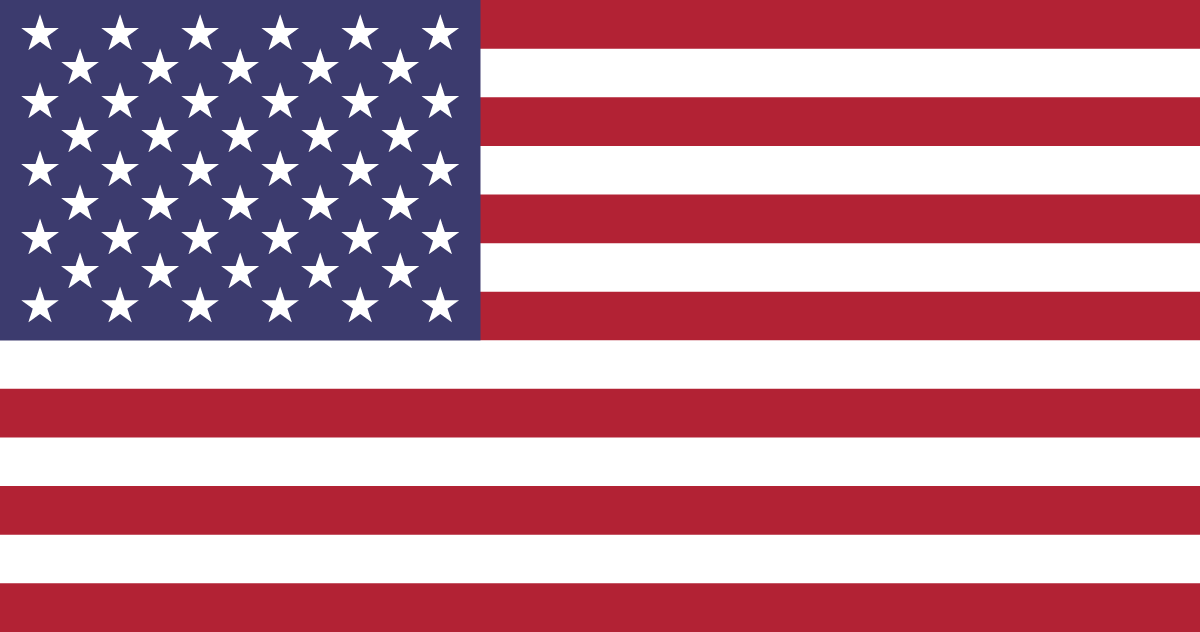 USA
At the California Lottery, sales increased by 5.2% year-on-year, from USD 8.4 billion in fiscal year 20/21 to USD 8.9 billion in fiscal year 21/22, according to figures provided by the California Lottery. In FY 2022, the California Lottery saw increased performance across every game in its product portfolio.
As in other US states, Scratchers (instant tickets) form a key vertical in the market. At the onset of the global health crisis, the need to follow social distancing protocols in the California Lottery's warehouses so as to keep staff safe resulted in Scratchers distribution challenges in the final quarter of FY 2020 and the first quarter of FY 2021. As the distribution challenges subsided, the California Lottery shipped an unusually large number of tickets throughout FY 2021 to restock its retailers' depleted ticket inventories.
In FY 2022, the California Lottery was able to launch more new Scratchers games than in FY 2021 and continued to have sales gains coming from its devoted Scratchers player segment, owing to a reallocation of entertainment-oriented spend priorities by these consumers. In particular, said consumers have focused on lottery offerings when looking for ways to spend their discretionary entertainment dollars, since many leisure and entertainment activities were either closed during the COVID-19 pandemic, or people have not felt comfortable going to physical locations for entertainment purposes.
At the Georgia Lottery, sales declined 4% year-on-year, from USD 6.0 billion in fiscal 20/21 to USD 5.8 billion in fiscal 21/22. Transfers to beneficiaries were USD 1.5 billion in FY 21/22, a decrease of USD 71 million compared to the prior year. Net proceeds are returned to the state treasury for credit to the Lottery for Education Account, per the Georgia Lottery for Education Act.
In all, FY 21/22 total lottery sales of USD 5.8 billion decreased by USD 240.4 million in absolute terms compared to the previous year. Sales of draw-based games fell by USD 80 million to USD 1.7 billion, while sales in the important Scratchers vertical fell by USD 262.9 million. Draw game sales performance was driven by decreases across core games (Cash 3, Keno, Fantasy 5) and by the performance of multi-state gaming products (Powerball, Cash 4 Life). Scratcher sales decreased across all price points except the USD 15 and USD 30 games; the USD 10 price point continued to be the top selling Scratchers game segment. Previously, the Georgia Lottery had seen a USD 578.3 million or 16.9% rise in Scratcher game sales in FY 20/21 to USD 4 billion, compared to the previous corresponding period.
Declines in numbers games and instant tickets were offset by an increase in Diggi (eInstant) games sales of USD 102.5 million, with total sales in the interactive channel increasing USD 139.4 million (45.6%) to USD 445.3 million, as compared to prior reporting period interactive sales of USD 305.9 million. The mobile platform accounted for USD 391.9 million or 88% of total interactive sales. Diggi games are interactive games that can be played on Internet or mobile platforms; they exhibit the same characteristics as traditional scratcher games, including grids and game reveal data. Players can place wagers using IGT Pay which is funded via debit card, bank account or PayPal; IGT Pay was launched in August 2018. Diggi game sales reached USD 309.9 million in FY 21/22, a year-on-year increase of 49.4%.
At the Texas Lottery, the product portfolio comprises draw games and scratch ticket lottery games (Scratchers). There is no digital offering. For the fiscal year ending in 2022, sales came in at USD 8.3 billion, a 2.3% increase over the previous reporting period, which saw sales of USD 8.1 billion.
Just over 80% of sales at the Texas lottery came from instant ticket sales in FY 2021/22. Scratch ticket sales for the fiscal year ending in 2022 increased by USD 110.3 million or 1.7% over the preceding fiscal year's sales. With instant ticket revenues of USD 6.7 billion, this represents the highest level of scratch ticket sales in the Commission's history.
At USD 1.6 billion, draw-based games composed the remaining 19.9% of Texas Lottery sales in FY 2021/22. In total, draw game sales increased by USD 79.4 million over the preceding fiscal year, or a 5.4% increase in FY 2020/21 draw-based sales of USD 1.5 billion. The increase in draw game sales was largely attributable to stronger performance of the Mega Millions and Powerball block games. Both games are cross-sold in the jurisdiction, and compose the majority of numbers game sales at the lottery.
Sports betting
The lottery market in North America, long distinguished by restrictions on sales transacted through the Web and by extremely limited sports betting, has developed new opportunities for players in both of these areas. The general restriction was due to laws at the U.S. Federal level that have been struck down or re-interpreted since 2018. States in the USA, like provinces in Canada, now have authority over these activities. Change occurs as state and provincial governments respond to popular demand, and to the potential of revenues from sports betting to support their good causes. The convenience of mobile transactions is widely seen as key to the success of sports betting, as well as simply the current standard of convenience in retail commerce. Governments have responded to these opportunities in a variety of ways. Some have used their lotteries to offer sports bets directly to players, while others have given the lotteries a regulatory role while sales are handled by other entities. Still others have enabled sports betting under regulation of authorities other than their lotteries. The televised presentation of major sports events in North America has been accompanied by much advertising of these new betting opportunities. As a measure of how quickly this market segment is growing, one estimate puts regulated online sports betting handle at USD 86 billion in 2022, with New York, New Jersey, Illinois, and Pennsylvania contributing half of the total. New York provided almost 20% of the handle, the single largest slice of the market, even as the state marked its first year of operation of regulated online sports betting.
Lottery Couriers
Likewise, governments have responded in diverse ways to the demand for mobile or Web-based lottery betting (iLottery). An increasing number of states and provinces offer at least some draw-based game bets, and usually also instant-win games, through applications or interfaces that their lotteries control. A majority of lotteries still do not offer this convenience, though, and some new private-sector enterprises have been successful in providing the convenience of mobile betting while fitting into the established retail model. Typically, these new enterprises do this by pairing a traditional lottery-licensed retail shop that transacts with the lottery, with a mobile App that transacts with the player. The player's mobile order and payment result in a paper printed ticket that is securely held at the retailer and also imaged to the player. Low-tier wins may also be validated and paid to the player through this system, while larger prizes that have reporting requirements require the player to present the paper ticket to the lottery. This sort of enterprise is called a 'lottery courier', and some states have officially recognized and set licensing standards for this type of business.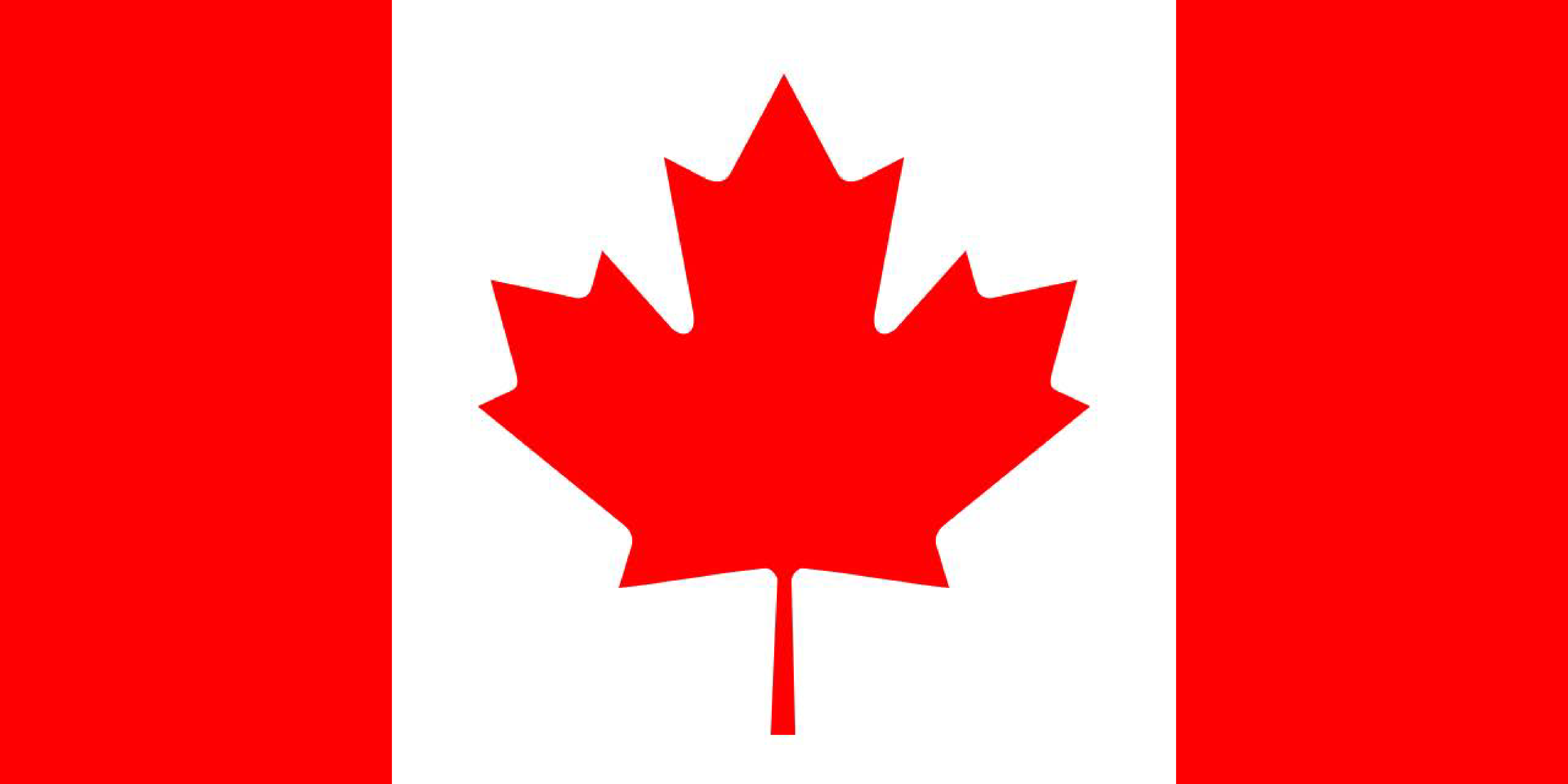 Canada
Canada's Ontario Lottery and Gaming (OLG) reported retail and digital (lottery/sports) sales of CAD 4.6 billion for the financial year ending in 2022, the most recent reporting period for which figures are available; this figure excludes revenues from OLG's land-based gaming (casino and charitable gaming center operations) and digital gaming casino operations. Sales for the previous corresponding period were CAD 4.4 billion, a year-on-year increase of 6.7%.
In more detail, lottery retail proceeds for fiscal 2021–22 achieved an all-time high, which resulted in a 6% increase over the prior year. The key drivers for the increase were:
Higher proceeds for national Lotto games, primarily the national games LOTTO 6/49 and LOTTO MAX, owing in part to a greater number of high-valued LOTTO MAX jackpots;
Higher proceeds for regional Lotto games, which was mainly due to strong ENCORE and LOTTARIO results;
Higher proceeds for the retail sports channel primarily owing to the continued rebound of sporting events from COVID-19-related cancellations in fiscal 2020–21. Also contributing to the increase was the launch of the new PROLINE+ online sports betting platform including single event wagering at retail locations.
Partially offsetting the above positive trends was a decrease in instants mostly owing to customers having more entertainment options available as pandemic conditions improved.
Digital gaming, comprising a mix of casino-style gaming (iCasino) and digital sports products purchased on OLG's digital platform, as well as sales from lottery products purchased on OLG's digital platform (iLottery) amounted to CAD 511 million, a year-over-year increase of 43.6%. Digital gaming proceeds set a new sales record in fiscal 2021–22, increasing CAD 155 million in absolute terms from the previous reporting period.
Despite challenges faced in land-based gaming, OLG continued to drive the performance of the lottery retail and digital gaming businesses, launching several new products and initiatives, including PROLINE+, Live Casino, and INSTANT TOP UP. Both lottery retail and digital gaming proceeds achieved record results in fiscal 2021–22; OLG ended the fiscal year with CAD 1.6 billion in net profit to the Province of Ontario.
Outlook
The COVID-19 pandemic has been unprecedented in living memory, a sui generis event that has caused vast disruption – often with adverse consequences – globally, regionally, nationally, and individually, to businesses, governments, and members of the public alike. The good news is that – as The Lancet medical journal reports – at least in highly vaccinated countries the link between incidence of COVID-19 and severe outcomes has been weakened, if not quite broken. The upshot is that COVID-19 is becoming an endemic disease that will most likely always be with us. While endemic does not necessarily mean mild, The Lancet is hopeful that with high levels of population immunity, the severity of COVID-19 will become closer to that of seasonal influenza, after accounting for patient age and underlying conditions.
Recent economic indicators support The Lancet's projections. US unemployment figures, which previously have tracked the pandemic as a whole – by showing an initial sharp, riving economic shock followed by a longer road to recovery, underpinned by US Federal and State government unemployment relief and the coordinated vaccine rollout nationwide – are continuing to do so, with weekly unemployment insurance claims returning to historic (pre-COVID-19) levels, indicating a welcome return to some level of normality. See Figure 3. Actual and real GDP growth shows a similar pattern, with severe disruption occasioned by the onset of the pandemic, a sharp recovery from 2021–2022 onwards, with projections indicating a return to near-historical levels of growth for 2023–2028. See Figure 4.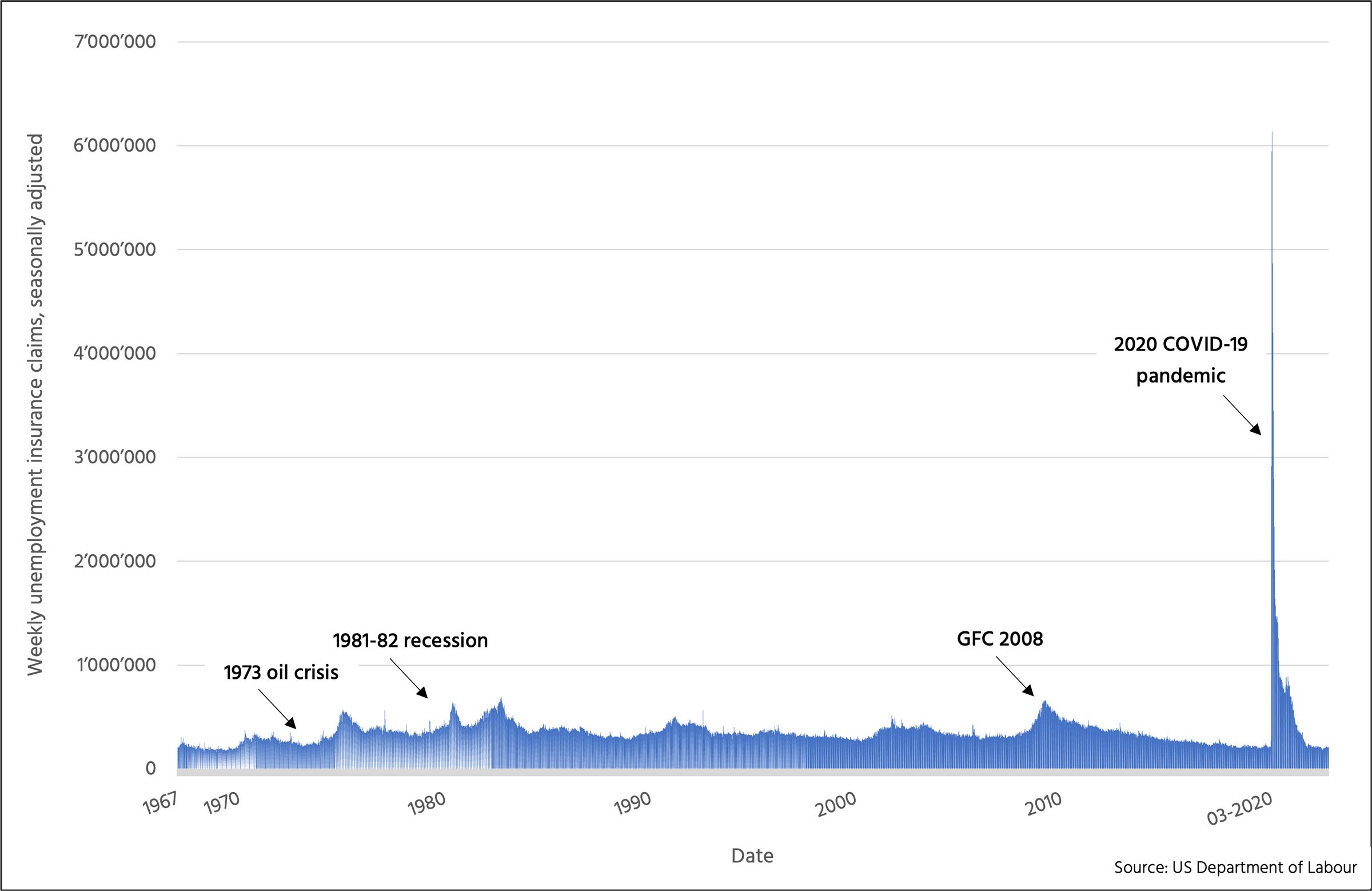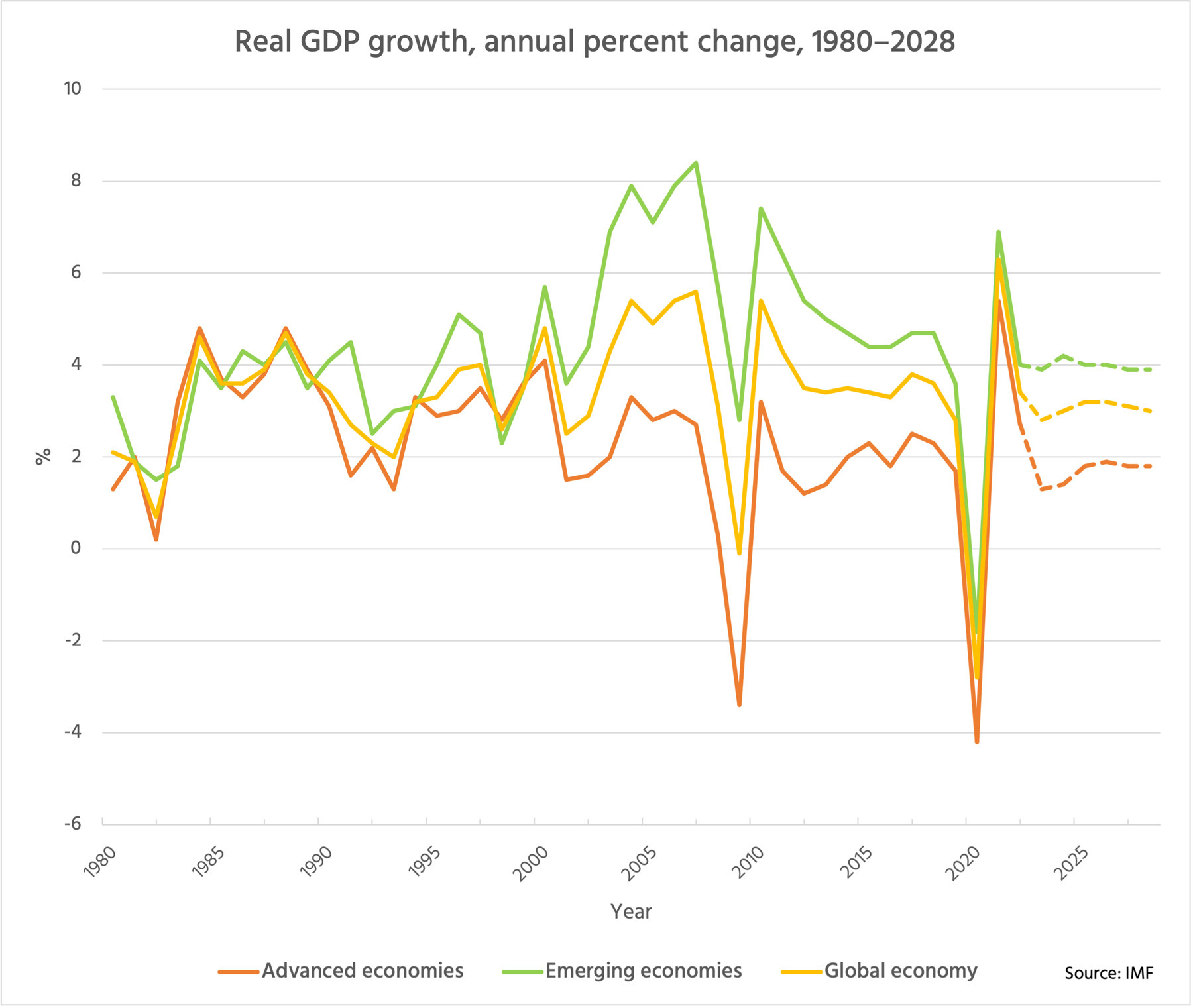 For lotteries and sports betting operators, the history of the pandemic has followed a similar arc to the general economy globally: an initial major dislocation and recovery through to end 2020, followed by a period of significantly increased spend – sometimes to record levels – through 2021 and 2022. Evidence is now beginning to emerge that the recovery of the lottery and sports betting sector is indeed 'sticky': sales for the lottery and sports betting sector are estimated to have returned to the levels seen pre-pandemic, and H2GC projects revenues will continue to rise for both lotteries and all gaming going forward. See Figure 5.
Turning to the future, the WLA will continue to report on developments in the lottery and sports betting sector, hopefully returning to more regular reporting as the disruption caused by the COVID-19 pandemic recedes. We look forward to bringing you the next edition in due course, and thank our audience for their attention during the COVID-19 pandemic.
Figure 5. H2GC actual and projected outlook, 2012–2026, for global gross win (lotteries) and global gross win (all gaming).