GLMS President Ludovico Calvi, as well as various members of GLMS, including World Lottery Association, Danske Spil, OPAP, Veikkaus, Hrvatska Lutrija, SISAL, la Francaise des Jeux and Singapore Pools all participated in the GLMS-sponsored lottery track of the SBC Digital Summit.
The summit, initially planned (pre-COVID19) to take place in Barcelona, finally ran online, organized by SBC, GLMS' strategic partners since late 2019.
The various lotteries and GLMS discussed topics including the evolution from traditional lottery games to a comprehensive set of gaming offer across all verticals and distribution channels operating in a very competitive market environment. GLMS members further discussed adapting to an increasingly high-tech environment, especially during COVID-19 and becoming more digital. Views were also exchanged on how all of this has developed in parallel to an increased customer centric approach by the lotteries today. Finally, our members also discussed the balance between responsible gaming and business.
Panellists included GLMS collective member, World Lottery Association, represented by its Executive Director, Luca Esposito, as well as individual lottery members, Sisal represented by Camilla Folladori, Danske Spil, represented by Jens Nielsen, Sportsbook Director and Soren Schneider, Director of Product Management, OPAP represented by Thanos Rigas, Sports Team Director, Tay Boon Khai, Chief Risk and Compliance at Singapore Pools, Vincent Perrotin, Head of CSR FDJ, and Marko Stokuca, Deputy Director of Gaming and Game Development at Hrvatska Lutrija. GLMS President Ludovico Calvi was a moderator on one of these sessions, all of which were held during the Lottery Track of the SBC Summit.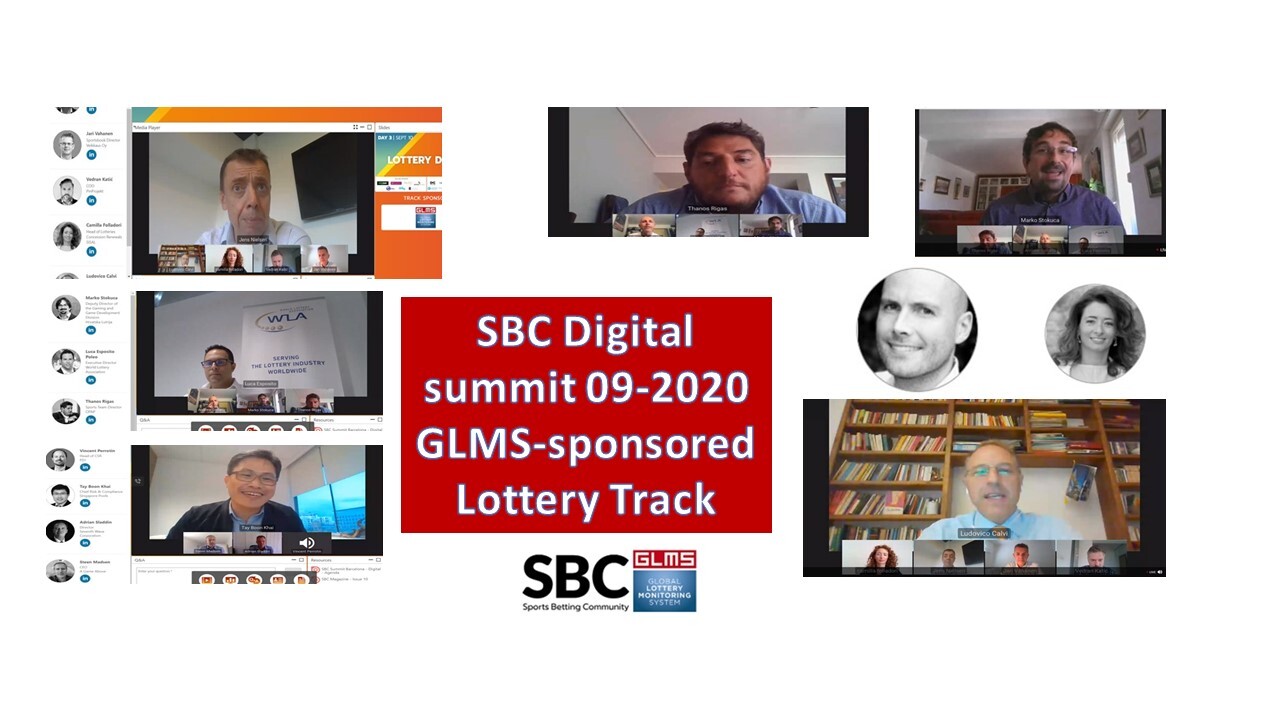 Expansion of lotteries beyond traditional games
In recent years, lotteries have expanded beyond just lotteries and traditional games. Lotteries' product and customer experience levels should be enhanced in order to increase the ability to compete more effectively. Lotteries, such as Sisal in Italy are acknowledging the potential outside their own domestic borders. They have undertaken the challenge to enter other markets leveraging on the Italian experience and customising the gaming propositions according to local requirement and market conditions. Camilla Folladori, International development Director atSisal, commented
"Over the last 2 years, Sisal has transformed itself from an Italian leading domestic operator to an international gaming company, with concessions in Morocco, Spain and Turkey. This impactful internationalization path has been driven by a clear and structured strategy, leveraging on Sisal's heritage, expertise and internal ICT. The entrepreneurship and optimistic leadership of its management, coupled with strong local teams, have proved key in pursuing the opportunities of the internationalization".
On the issue of traditional lotteries and sports betting, Jens Nielsen, Dankse Spil's Sports book director noted that the Danish lottery has been recognised as a sports lottery since its early days and strives to turn challenges such as the current crisis into opportunities – he noted that the key was to develop a safe, responsible, user friendly opportunity for Danish sports fans and be available for them and be competitive within the boundaries of responsibility. Good suppliers and strong in-house employees were vital to this process.
"At Danske Spil we strive to be a user-friendly, modern and safe place to play for the Danish sports fans. Being quite small in the overall picture in a market with some of the biggest global operators present, it is important for us to be conscious about who we are and what are our strengths. We therefore constantly work to find a good balance on what to focus on in-house with our strong, but relatively small staff and where to engage in partnerships with the best external suppliers we can find".
Responsible gaming and the lotteries
A lively debate on another panel on responsible gaming featured GLMS members from Singapore and France discussing their views on the benefits of being a monopoly lottery. Tay Boon Kai, Chief Risk and Compliance officer at Singapore Pools, shared that for them, being a monopoly helps to effectively mitigate problem gambling. In terms of safeguarding player ethics, knowing what players are buying and their activities it is easier to know and have the proper insight to prevent problem gaming. It cannot necessarily prevent it fully but probably can regulate it to a high level. The panel discussed whether the monopoly cannot respond to the market needs and it is better to open it. Vincent Perrotin, head of CSR at La Française des Jeux shared that in France, a mixed system (land-based monopoly and online open market) may facilitate other related work such as anti-money laundering, anti-fraud and the fight against illegal betting. A balance should be reached between the way to channel demand and stay attractive and if lotteries don't do this they will have illegal operators flourishing: all this keeping in mind the responsibility related to compulsive gaming. A Monopoly can be efficient and should be accompanied by appropriate regulations and methods to meet the demand. Mr. Perrotin concluded aptly, "Responsible gaming is a key factor for lotteries' long term development".

GLMS Virtual Stand at the SBC Digiital Summit
Lotteries adapting to new challenges and looking out for the community
In yet another riveting panel discussing lotteries and new challenges, theWorld Lottery Association Executive Director, Luca Esposito shared that
"The lottery and sports betting industry is unique in that a substantial part of the profits that it earns is given back to society. This strong bond between lotteries and their communities was recently confirmed by WLA member lotteries, who endeavored to support their beneficiaries despite the COVID-19, lockdown-imposed austerity that many of them had to endure".
He further highlighted the active engagement of the WLA members to this end, adding that
"In some cases, WLA member lotteries donated revenue – beyond their usual contribution – to help fight the coronavirus and to help protect the most vulnerable during the pandemic crisis. As the coronavirus continues to plague the world, we can be certain that state-lotteries will continue doing their best to support their communities"
Lottery associations are needing to adjust and to embrace not only a technologically-advanced era, but especially an era that has almost entirely digitalized-whether permanently or temporarily- activities due to COVID-19 and this has been particularly the case for this sector, where land-based business is still extremely important. Thanos Rigas, Sports Team Director at OPAP shared his experience in Greece,
"After the COVID-19 pandemic lockdown, is clear we have entered a new reality. As OPAP, we have managed to respond to the responsibility we have towards our society, we have successfully re-opened our shops according to health and safety regulations and we adapt our operation to the new needs of our employees, our partners and our players".

The customer central to the lotteries
Finally, Soren Schneider, Director of Product Management, Gaming at Danske Spil participated in the last panel on the day discussing the important topic of keeping the focus on the customer while remaining product-based.
"To ensure future growth at Danske Spil we strive to create an emotional connection with our customers". This is all the more true for smaller sized lottery associations such as Danske Spil. He continued, "We have to be relevant in all our touch points and use our local knowledge and insights to create a playground that differentiates us from the rest of the gaming/entertainment offers out there. We have to combine the strength of all our power brands and focus on how to use technology and data to learn more about our customers."
About GLMS

GLMS is the state lotteries' mutualized monitoring system on sports betting. It aims at detecting and analyzing suspicious betting activities that could question the integrity of a sport competition. Building on six years of experience with the establishment in 2009 of ELMS with European Lotteries, GLMS went global in January 2015 extending the network to other continents. GLMS facilitates the sharing of sports betting information as part of the collective efforts of its members in ensuring sports integrity globally, and is dedicated to effective cooperation with all key stakeholders: regulators, law enforcement authorities, sports organizations.

GLMS currently has 32 individual Members from 4 continents (Österreichische Lotterien - Austria, Loterie Nationale – Belgium, Hrvatska Lutrija – Croatia, SAZKA – Czech Republic, Danske Spil – Denmark, Veikkaus – Finland, La Française Des Jeux – France, Staatliche Loterieverwaltung in Bayern – Germany, Opap SA – Greece, Szerencsejatek – Hungary, Islenk Getspa – Iceland, Israel Sports Betting Board - Israel, Lottomatica – Italy, Sisal – Italy, Maltco Lotteries Ltd – Malta, Norsk Tipping – Norway, Santa Casa De Misericordia da Lisboa – Portugal, STOLOTO – Russia, Sportna Loterija – Slovenia, Svenska Spel – Sweden, Loterie Romande – Switzerland, Swisslos – Switzerland, Nederlandse Loterij, the Netherlands, Hong Kong Jockey Club – Hong Kong, Singapore Pools – Singapore, Ktoto Co – South Korea, China Sports Lottery – China, Loto-Québec- Canada, Polla Chilena de Beneficencia – Chile, Banca de Quinielas de Montevideo – Uruguay, La Marocaine des Jeux et des Sports, Morocco, Loterie Nationale du Sénégal – Senegal) and 2 collective Members (European Lotteries Association and World Lottery Association).
GLMS has 3 associate Members: Scientific Games International (SGI), INTRALOT and IGT.

For more information and to join the GLMS Family
Please contact [email protected]